We are fully committed to servicing all customers in the current circumstances. Our engineers are working hard 24/7 to support all domestic and commercial customers.
Areas we cover.
Metro Rod Mid Wales & Shropshire cover a large area which spans from Aberystwyth on the Welsh coastline all the way in to middle England just short of Stoke. Our office and base of operations is situated in Welshpool, Powys. This for the business is logistically perfect as we are perfectly placed for the Welsh mountains over into England and the ever growing Shropshire towns of Telford, Shrewsbury, Newport, Whitchurch and Oswestry. We believe we offer our customers a brilliant service and can reach most problems with in 2 hours of the callout.  Below are detailed pictures of each area we cover individually. These areas have all the postcodes on them to make it easier for customers to see if they are in the areas we cover.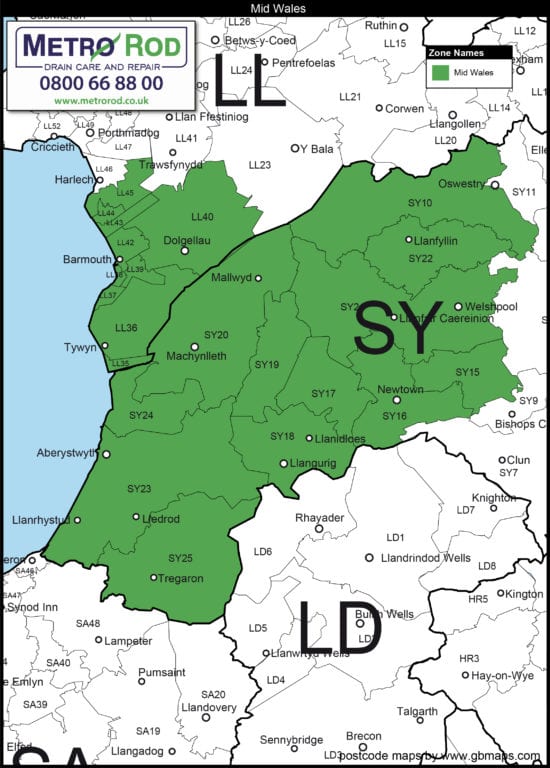 Mid Wales.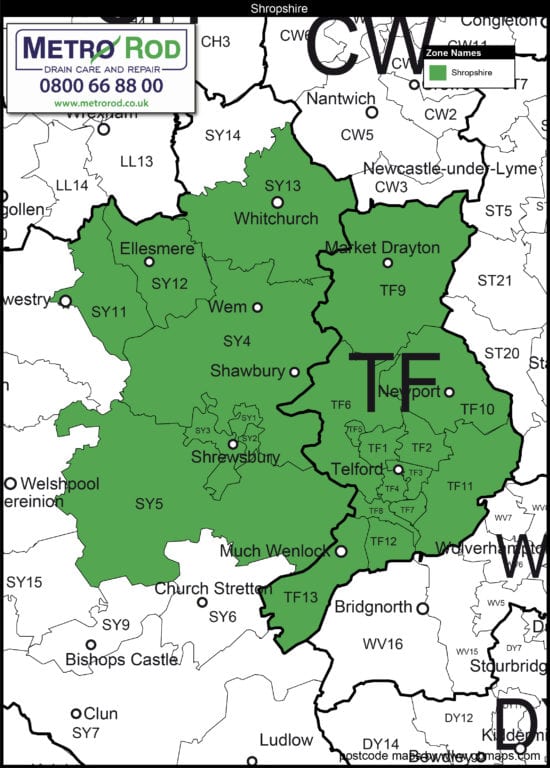 Shropshire And Newport Area.
Within these areas we cover a multitude of services. Many people thinks we are your basic drain unblocker. But in fact we cover so much more:-
List of Services we provide.
Clearing blocked Drains, Showers, Toilets, Baths and Sinks
High Water Pressure Jetting
CCTV surveys which include Build over surveys to Severn Trent water and Hafren Dyfrdwy standards.
Septic Tank, Interceptor and Bio Disc Emptying and maintenance.
Investigation works on all types of tanks.
Pipe lining and Renovation
Pre Planned Maintenance (PPM's)
All types of excavations
Installations of new Drainage Systems
Gutter Cleaning using our MetroVac System
Reactive Emergency Plumbing
Pump Maintenance and Repair
Free Site Assessments
Investing for the future
We Pride Ourselves on keeping up with the latest Technology. Recently we have purchased 2 new I Touch CCTV camera systems, a new Gutter Vacuum system along with a new Picote Pipe cleaner. The I touch camera offers our engineers the ability to produce on site drawings of the drainage system. We then have the ability to produce the report with the Live aspect of the I touch where we can send the report straight to the office and we can get it completed and to the customer in a timely manner. The Picote Pipe Cleaner is a brilliant machine and really helps our engineers with Blockages such as Fat and rusted/blistered cast iron pipes. It has the ability to clean and re-round most pipes and we are able to follow the flails with a Camera which gives us a great view of what's going on. We have purchased a new Gutter Vacuum system which has a more powerful suction and longer reach which enables us to safely reach good heights and with the CCTV system attached we can visibly see what we are clearing giving the customer 100% satisfaction. These new devices will enable our engineers to provide a better range of services to our customers. We have also expanded our fleet of vans with our new van which has the new Metro Rod company branding. In the pipeline there are plans for a new Tanker and another van in the near future. Below is a picture of our new van and the engineers in the new brand colours.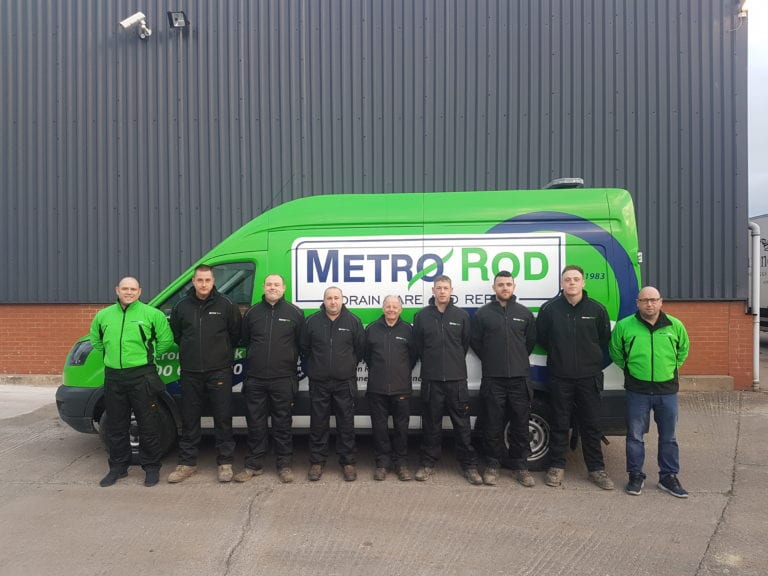 24 Hour Service.
We offer a service that few in the Drainage industry can provide with our 24 hour emergency helpline which is manned 365 days of the year. Along with our loyal engineers who also provide a Professional, friendly and reliable service 24/7 365. If you feel that you have any problems with your drainage system or even if your not sure about anything relating to you Drainage system. Contact us on 01938554050 or E-mail us on [email protected]