We are fully committed to servicing all customers in the current circumstances. Our engineers are working hard 24/7 to support all domestic and commercial customers.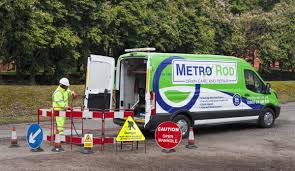 Most of our work at Metro Rod Reading relates to clearing blocked drains or blocked toilets. We also serve the businesses of Reading and the Thames Valley area, from Swindon to Ascot, with pre-planned drain maintenance cleans at regular intervals to ensure their drains do not become blocked.
Most blockages are cleared with the pipes themselves found to be intact BUT sometimes our investigations will reveal that a problem is being caused by the physical condition of the pipe itself and in these instances a drain repair is necessary. A CCTV inspection will quickly reveal the exact nature of any defect in the drain and the technical expertise of our drainage engineers then really comes to the fore.
Some examples of physical defects found in drains which Metro Rod Reading can repair are :
Misaligned joints ; This is when a length of drain pipe subsides/slips slightly below the level of the next length meaning there is a "lip"formed which can lead to snagging and blockage.
Cracked pipe. Cracked drains are a serious problem that can result in flooding, bad smells, pollution of soil and groundwater as well as the spread of diseases.Causes of cracked pipes include the incursion of tree roots, underground movement and corrosion in the case of metal pipes.
Collapsed drains. This is one of the most serious scenarios in drainage. Collapsed drains in the Reading area are caused by numerous things but most commonly by frequent blockages in the pipes that cause water to be continually lost into the ground. This flooding results in pressure on the drainage system and then a collapsed drain. In any event the signs of a collapsed drain include localised flooding, escape of sewage and foul smells and slow-running household drainage. In extreme cases damage to the building the drain serves can occur as water infiltrates it's foundations.
At Metro Rod Reading our drainage engineers are skilled in various methods of drain repair with the three main ones described below:
Localised Structural Repair. This is commonly used for lesser problems where only a short portion of the pipe is impacted and involves inserting a "patch" repair over the crack or defect. This is a short watertight structural repair sleeve that can be installed into circular sewers in sizes from 100mm upwards.  Repairs are carried out on cracks, holes and fractures.  A "patch" can be used to quickly seal infiltration, prevent root growth and smooth displaced joints.  A resin impregnated material is wrapped around a packer that is positioned over the defect and inflated against the inside pipe wall.  The packer is held in position until the resin has cured, the packer is then deflated and removed leaving a cured in place part-liner over the damaged section of pipe.
Drain lining. This is similar to patch-lining in that it is a "no-dig" method of repair but involves creating a new inner-sleeve within a drain when there is an entire length of pipe which would benefit from this. The process involves an inverted, tubular material saturated with resin being inserted into the cracked drain-pipe with the use of either a winch or air pressure.An inflatable device is then used to expand the material to fit the the pipe interior after which the resin is activated and held in place by the inflatable. The resin is allowed to cure/harden before the inflatable device is removed leaving the pipe with a new inner surface, sometimes over many metres of length.
Excavation.  At Metro Rod Reading we will carry out a "no-dig" repair wherever possible but sometimes, as perhaps with a collapsed drain, there will be no option but to dig up the old drain and physically replace it with new pipe. You can rely upon our fully trained and accredited drainage engineers to carry out any excavation safely and professionally.
If you have any drainage issue you would like to talk to us about please just call us on 0808 208 2654 . Alternatively you can call our emergency helpline on 0800 66 88 00 24 hours a day.
You can also contact us by:
Going to www.metrorod.co.uk/local/reading/
Emailing us at [email protected]
Connecting with Andrew, our Managing Director on LinkedIn