We are fully committed to servicing all customers in the current circumstances. Our engineers are working hard 24/7 to support all domestic and commercial customers.
Frozen Pipes, Burst Pipes, Fats Oils and Grease This Christmas
You will have seen all the weather news headlines. If you haven't, the cold weather has hit the UK and we are forecasted plenty of frost, ice and snow. Some of the headlines below:
"Freezing arctic weather to smash UK in hours".
"Snow blast of up to two inches to hit amid 'danger to life' floods".
"'Danger-to-life' warnings issued as temperatures plunge bringing snow".
Weather warnings are in force for the UK, provided by the Met Office:
As we know, with Winter comes frost, ice and snow – all of which can cause damage to our drains, which can then lead to damage of your property and homes. During Winter, your drainage system is extremely vulnerable.
Let's look at what you can do to help prevent common winter drainage problems at your business and at home:
Autumn and Winter bring leaves, debris, snow and rain which can be main contributors to blocked drains. If your drain cleaning and gutter cleaning have been disregarded, such debris can build up causing blocked drains and overflows in or outside your businesses and homes.
Regular drain cleaning will help prevent the build-up of fatbergs and blockages before it becomes a serious/expensive problem. Our engineers at Metro Rod West Yorkshire can help you clean your pipes regularly and keeps your pipes in top shape with pre-planned maintenance by routinely removing build-ups. Drain cleaning can also extend the life of your existing drains and pipes, reducing the likelihood of leaks and drain repair.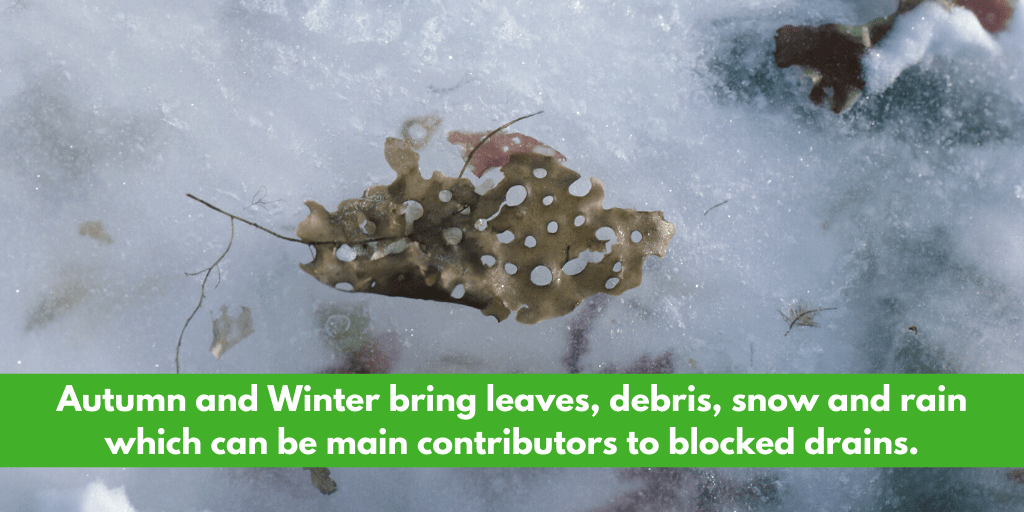 In winter it's even more important to make sure you avoid pouring fats, oils and grease (FOG) down you sink and into your drain. As the FOG cools it can cause blocked drains so it is important you make sure you:
Avoid pouring food, fats, oils and grease down your sink
Leave food, fats, oils and grease to cool and dispose of them in your bin
Look out for dripping taps and water outlets, as water that is released slowly is likely to freeze.
Autumn and Winters in West Yorkshire are known to be very cold, right up to late Spring some years. With the temperature dropping so low, water can freeze in your pipes. When this happens, the water expands and creates pressure on your pipes. You can tell if your drains are frozen if the weather is extremely cold and little or no water comes from your taps when they're turned on. To minimise the likelihood of blocked drains or burst pipes you can insulate vulnerable pipes. The insulation will work by slowing down the freezing process.
If you're suffering from frozen pipes that have not burst yet, we suggest that you wait for the pipes to thaw. We recommend using only light and gradual heat such as warm (not boiling) water to speed the thawing process.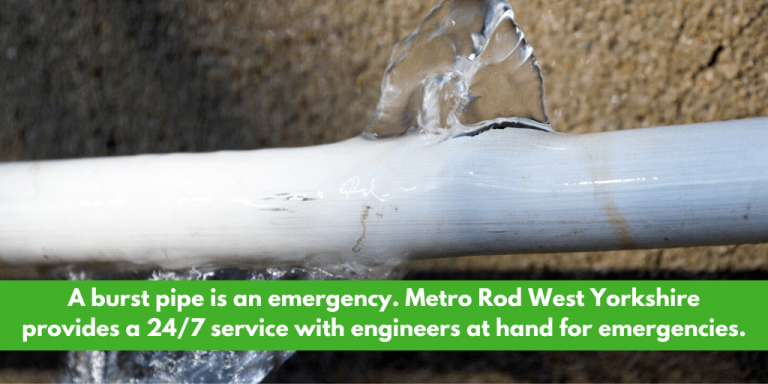 A burst pipe is an emergency. Metro Rod West Yorkshire provides a 24/7 service with engineers at hand for emergencies. If you require our services you can call us on 01484 844 100.
If you'd like more information on burst pipes causing a water leak, and you're in the West Yorkshire area, visit the Metro Rod West Yorkshire page to get in touch.