School Holidays are upon us which means it is the perfect opportunity for pre-planned maintenance at your school.
Every year school facilities face a lot of wear and tear making it essential to ensure smooth running before September comes, this is where pre-planned maintenance comes in.
Metro Rod Newcastle, Morpeth and Alnwick want to offer you a FREE visual inspection of your school's drainage systems, allowing you to take the necessary course of action towards maintaining your drainage, preventing blocked drains, and having it in the best possible condition ahead of your students returning in September. There are a number of key indicators of having blocked drains, whether that's foul smells, or if toilets and sinks are slow to drain. There can be a number of causes for this, for example; uric scale. This is made up of uric salt crystals in urine, that over extended periods of time, coat the sides of pipes and dry, which will restrict the flow of water and urine down the pipes, leading to blocked drains.
All of our engineers are CRB Enhanced checked and fully certified to work in a multitude of schools, colleges and nurseries, and all our engineers carry photo ID badges. We have an extensive background for working with schools and we can even inform you of the engineer's name and vehicle registration before they arrive at site upon request.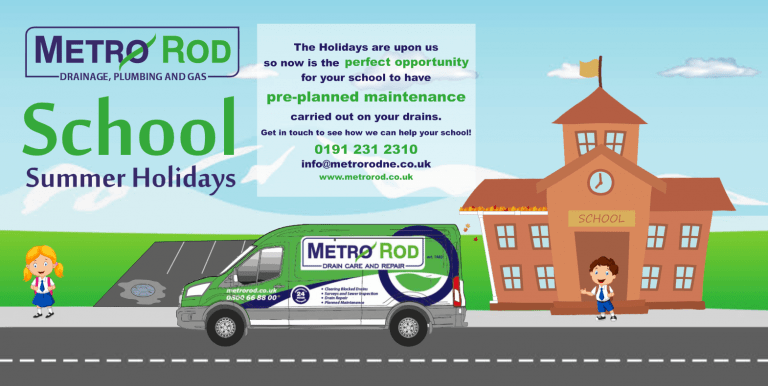 Blocked Drains
We can also offer bespoke, pre-planned services to help combat blocked drains and prevent further issues occurring later down the line. We can send out one of our expert engineers to advise you of what type of clean out, if any, would benefit your site, and of what frequency your site would require this. Whether that be a 6-monthly descale of urinal pipework, or a bi-monthly clean of your kitchen's grease traps, here at Metro Rod Newcastle, Morpeth and Alnwick we can tailor our services to meet your requirements, prevent unnecessary blockages, and help keep your site running as smoothly as possible.
For a FREE visual inspection on your school's drains to help prevent blocked drains, call Metro Rod Newcastle, Morpeth and Alnwick today on 0191 231 2310, or email; [email protected] or for more information, please visit our website here.
For up to date news and events surrounding Metro Rod Newcastle, Morpeth and Alnwick, please follow us on Twitter here, Like our Facebook page here, and Follow our Instagram page here.