We are fully committed to servicing all customers in the current circumstances. Our engineers are working hard 24/7 to support all domestic and commercial customers.
Slow Draining Sink? Blocked Toilets? Drain Collapses?  All problems that we here at Metro Rod in Liverpool can easily fix!
Many people imagine that drainage problems always have to be massively disruptive problems, such as blocked, over flowing toilets, drainage collapses, sewage coming up in the back yard and so on.  Yes, these are all problems that we here at Metro Rod in Liverpool encounter sadly on a daily basis but we also deal with the smaller problems too, which impact on our customers lives.
This particular house holder in Liverpool called Metro Rod as they had been suffering with a slow draining sink in her kitchen for some time. This was becoming increasingly smelly despite the use of bleach, disinfectant and other chemicals.  When our engineer arrived on site the householder also mentioned that lately their dishwasher hadn't been operating properly either for a little while, it had been not draining properly and not cleaning the dishes properly.  Now, this may seem like a small inconvenience but to this busy householder it was indeed a problem.  She stated that again she had used all sorts of disinfectant, bleaches etc on the dishwasher but to no avail and was about to buy a new one, despite this one not being very old!
Our engineer quickly set to work and disconnected all of the pipework under the sink to see if he could work out what the problem was.  The trap had been cleaned out by the householder's husband recently and so didn't seem to be the cause of the problem, but further investigation found the problem – concrete!!  Large pieces of concrete were found almost filling the pipework!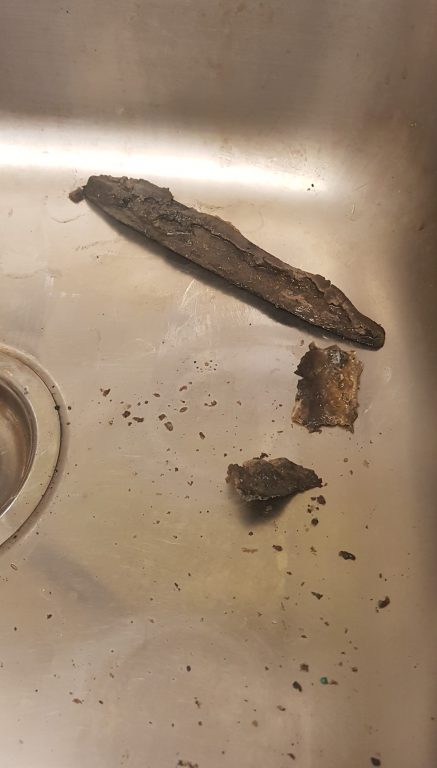 It transpired that the householder had had their kitchen re-tiled and grouted about 12 months previously and a lot of the grout had ended up being washed down the sink. This had set in the pipework and was now causing obstructions meaning that bits of food waste, coffee grounds and so on that would normally be flushed through the system with ease were getting caught on the concrete material.  This was leading to the bad smells, slow draining sink and the problems with the dishwasher too!  The pipework was put back together and facilities were left clean and free flowing.
Mrs Franklin, the house holder said:
"Thank you so much Metro Rod for fixing my slow draining sink.  We had tried all sorts, plunging it, pouring hot water and chemicals down but to no avail – it's thankfully all fixed now and I am really grateful!"  She added "The money that I was going to spend on a new dishwasher can be put to better use now (shoes and handbags!)"
Metro Rod do deal with drainage problems on a daily basis across Liverpool, Warrington, St Helens, Southport, Skelmersdale, Widnes and Runcorn.  From blocked toilets, slow draining sinks and dealing with bad smells to the larger problems such as drain collapses, surveying drains and sewers and non invasive repairs such as patching and lining we do deal with it all!
If you wish to speak with any of us here at Metro Rod regarding any drainage problems please don't hesitate to get in touch, you can contact us by;
Calling on 0151 909 2807
Emailing on [email protected]
Going to our website, www.metrorod.co.uk/Liverpool
Going to our Twitter or Facebook pages
Connecting with Jenny, our Business Development Manager on LinkedIn
We also have some new brochures that we can send out to any interested parties which outline all of our services at greater length, please let us know if you would like one!