We are fully committed to servicing all customers in the current circumstances. Our engineers are working hard 24/7 to support all domestic and commercial customers.
Abbeyfields 3 P's Assembily
Metro Rod recently went into Abbeyfields first School in Morpeth to teach the young children about the 3 P's and what they should and shouldn't put down the toilet.
Following Fatberg, there has been a lot of discussions recently on the news about the 3 P's and at Metro Rod, we thought this would be a fun and easy way to introduce this to the children and Abbeyfield School were happy for us to go along.
Emily and Tricia from Metro Rod went to the school Assembly and spent around 15 minutes introducing the children to Timmy Toilet and Betty Bin.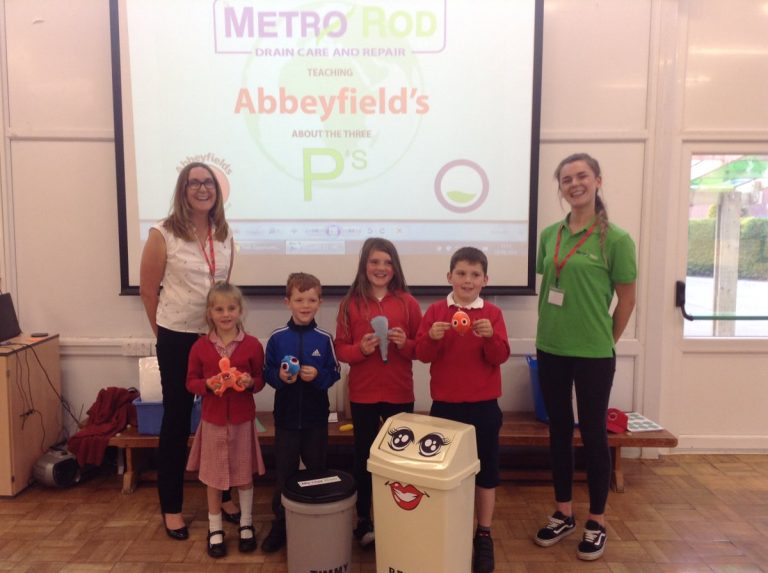 The children were an absolute pleasure and walked into the assembly and out of the room singing "Paloma Faith – Make Your Own Kind of Music" at the top of their voices.
We were introduced to our audience and then told the primary children from Abbeyfield School why we were there. You can just imagine the glee on their faces when we asked them what the 3 P's stood for.
PEE, PAPER AND POO.
As you can imagine, the children at Abbeyfields school were initially rather giddy and with a very gentle reminder from ourselves and the teachers, they were quiet and a credit to the school and their parents.
We played a game with the children and chose 4 of them to stand at the front with us as they held stuffed fish toys.  There was then a pile of items that the school children had to decide whether they should b put into Betty Bin or Timmy Toilet.  If the item went into the right place the fish were waved in the air to show they were happy and if it the item went into the wrong place, the fish looked sad.
The session was an absolute success and we would like to thank Abbeyfields School for allowing us to come and deliver this short session to the children.  If you are interested in Tricia and Emily coming to your primary school, please call on 01912312310 or email your details to [email protected] and we will be pleased to arrange a convenient time to visit.
Timmy the Toilet & Betty the Bin