We are fully committed to servicing all customers in the current circumstances. Our engineers are working hard 24/7 to support all domestic and commercial customers.
You may be wondering why gutter cleaning is needed if they are just catching and taking rainwater away, but that is not all gutters collect.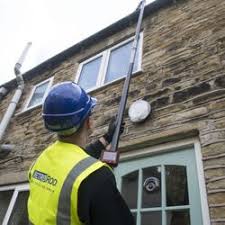 As we make our way into autumn, leaves, sticks and other debris are going to start falling off trees and they can then become quite inconvenient for our drains and gutters. When leaves and other debris fall into the gutters on our homes, they can stay there building up and eventually blocking the water from draining away. You want to avoid having blocked gutters as they can break and then damage your home or cause damp, neither of which you want to have to deal with. The other possibility is that the leaves, sticks and debris can make a nice home for small animals and rodents which you probably don't want around your house. 
Metro Rod Nottingham can help with this, we offer gutter cleaning maintenance, which means you don't need to worry about getting up on dangerous ladders to clean out your gutters. Our equipment allows the engineer to stay on the ground whilst still removing the leaves, sticks and anything else out from your gutters. The small camera on the equipment will let the engineer check that they have removed everything, ensuring that your gutters are throughly cleaned. 
Gutters aren't the only place which might suffer from leaves and debris over the next few months, you should try and check your drains as well to ensure they are not becoming blocked. Leaves will make their way into any drains on the ground and can also build up to prevent water draining away and this puts you at risk of localised flooding. To help reduce this risk you can buy drain guards which will allow water through whilst catching the leaves and sticks. You will need to remember to clear the guards every so often otherwise it will also build up and cease to be effective. 
Even though you cant keep leaves from falling, something that will help keep the leaves under control, is raking them to the side regularly as this will help keep them out of the drains. 
Metro Rod Nottingham & Derby offer services from dealing with blocked drains, drain repair, CCTV surveys and septic tank maintenance. We believe in simple things and make sure we follow them through; available 24/7, professional, value for money service during and after the job and peace of mind in the fact that all our engineers are highly trained, DBS checked and fully insured.
Make sure you get in touch with us through any of the following:
Enquire through our website: click here
Get in touch with us via email: [email protected]
Call us on 0808 208 2649
We any drainage needs, we are the drainage experts. We look forward to hearing from you soon!