Spa Day Anyone?!
Our range of services was recently referred to as looking like an alternative Spa Day Menu!
"Really?!" I hear you gasp!
Yes quite! We do have a sense of humour here at Metro Rod – well we have to don't we?! As I always say – "Drain Care might not be Glamorous but it Essential"
Would you like to see what has been referred to as the alternative spa day menu…….well here it is:
Blocked Drain Clearance
Drain Repair
CCTV Drainage Surveys
Sewer Inspection
Pre Planned Maintenance
Septic Tank Management
Gutter Clearance
Tanker Services
Pipe Lining and Rehabilitation
Metro Rod Cambridge has over 25 years experience in Drain Care and Unblocking Drains, our combined Engineer work experience is a whopping 91 years! We service Cambridgeshire, parts of Norfolk and Suffolk – Ely, Cambridge, Downham Market, Kings Lynn, Thetford, Brandon, Newmarket, Red Lodge, Bury St Edmunds, Kings Lynn, Royston, Heacham, Snettisham, Hunstanton, Sandringham and all the villages in between.
We offer a 24/7/365 emergency service for unblocking drains, unblocking toilets and unblocking sinks. This will give you the peace of mind that if the worse happens in the small hours of the morning we will be there with our fully kitted out vehicles, our engineer ready to solve the problem restoring flow in no time.
Metro Rod Cambridge also specialises in Gutter Clearance using our specialist, industrial vacuum. Gutter clearing is an essential part of building maintenance and blocked gutters can cause big problems. But difficult access to gutters has long been a problem for maintenance, where there is insufficient space to erect ladders safely.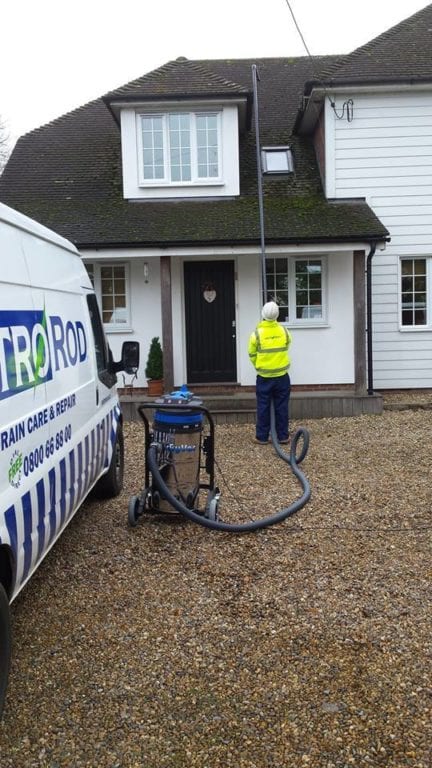 Our  innovative Vac system uses long poles that can reach up to 10 metres high to clean gutters from ground level; this removes the need for expensive scaffolding.
An industrial grade wet vacuum cleaner is attached to the poles which will easily lift moss, leaves and debris from the gutters.
A camera mounted on the top of the pole sends real time video to a monitor viewed by the operator. This allows our engineers to precision clean and process large amounts of guttering quickly, safely and efficiently.
The process is equally suitable for gutters with good access as it offers an option to remove the risks of 'working at height'. Statistically, working at height is one of the biggest risks in industrial fatality rates and therefore Metro Vac provides a safer alternative.
Why use Metro Vac?
Cost effective – Reduces the requirement for expensive access equipment
No Mess – sucks gutters clean using wet and dry vacuum
Perfect for hard to reach areas such as over atrium's
Reduces risk – minimises the need to work at height
Precision cleaning – on-board cameras operated by skilled and professional engineers
Our reckoning is that if you have Drainage issues, once we have restored flow and unblocked any drains you can get yourself off to the Spa for a well deserved break!
If you would like to arrange an engineer to attend your Property or would like some advise, please call on 01353 659047
Email us at: [email protected]
Check out our news on Facebook
Tweet us on Twitter
We look forward to hearing from you soon!