Autumn is a beautiful time! the aroma of pumpkin spice fills the shops, big baggy jumpers are very much back in fashion and the leaves have turned beautiful shades of  red, yellow and gold, becoming the perfect back drop for the season.   However there is a sinister side to Autumn which can effect  the daily running of our homes and businesses!
#1- Leaves!
Those beautiful leaves that carpet the streets are staples of the season and the trees shake them off ready for winter they scatter themselves far and wide.  mainly ending up in our gutters and drains!   These deep damp areas don't allow them any room to exit so in there they sit.  But what is so wrong with that?!
Why are leaves such an issue?
A question we get asked a lot is why do leaves in the guttering and the drains pose such a problem?  They naturally decompose!  Which yes they do! however the decomposing process takes time and through the autumn months we see a major increase of leaves falling over a short period of time.  A mass of leaves collecting in the drains and gutters with no time for natural processes to remove them,  couple this with the muck and sludge that has been building throughout the year and the problem announces itself causing issues that if not treated can become serious.
The problems blockages cause:
Property Damp and mould–  Blocked gutters means that rain water has no direction, and the property wall therefore has no protection from the onslaught of rain that Autumn brings.  Water pouring down the side of a building is never good!  And is one of the main causes of damp and mould in properties.  which causes paint and and wall paper to come away, mould spores to form resulting in a costly redecoration/restoration job.
Broken Guttering– Gutters which are heavily blocked are more likely to collapse and break,  again without guttering properties are at risk.
Flooding – Drain gullies are easily effected by the autumn fall and as cars, bikes and wind push the leaves further into the gully the block enlarges.  Causing water to back up and flash floods to appear.  Flash flooding has been a serious issue this year with many counts of high levels of rain fall.  however if gullies and blocked even the smallest down pour can cause issues with flooding making daily tasks near impossible and properties at risk.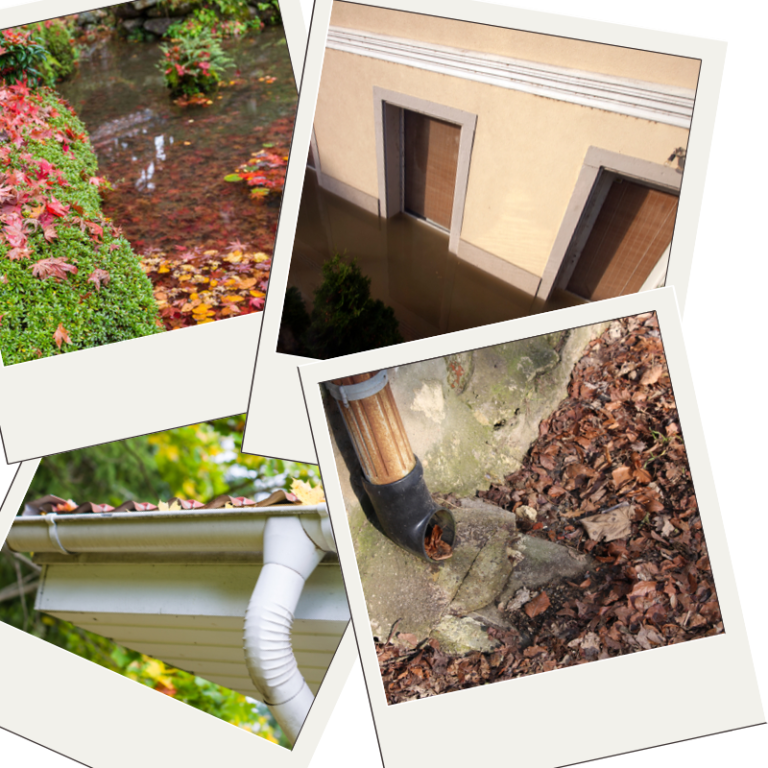 #2 Rain!
We live in England, Large quantities of rain is just something that we have to accept throughout the year.  However Autumn brings with it larger down pours on a more frequent basis which can cause issues with gutters and gullies alike.  High levels of rain obviously put our drainage and guttering  to the test more so in the Autumn months and though we expect for drains and gutters to overflow slightly throughout these times, this isn't something that should be ignored.  over flowing gutters and gullies can be a sign of larger issues such as blockages and breaks.
How to beat the Autumnal onslaught:
As with anything the best form of offence is defence and when it comes to autumn drainage problems consistent care is more crucial than ever.   Regular gutter and drainage maintenance will keep your gutters, drains and property safe from the inevitable bouts of rain.
Be vigilant!  Keep an eye out for an increase in leaves in your gutters and if you are concerned give us a ring.
If odours are arising from the drainage give us a ring.  Odours can be a sign of blockages.
If leaves are  littering your garden, sweep them up and dispose of them in a compost heap or a compost bin to stop them finding their way into your drainage.
Get in contact with us today to find out how we can help you this Autumn.