In the last 6 months alone, Metro Rod Manchester's engineers have completed over 3,100 drainage jobs, clearing blocked drains across Central and South Manchester, including Stockport, Macclesfield and surrounding Cheshire. Causes of these problems always differ, depending on what sort of property has them; from fats, oils and grease in the hospitality industry, to excess toilet paper, nappies and wet wipes in domestic households. There is of course a cross over here, as any cause of blocked drains can be found within any type of property; commercial or domestic.
We wish to educate you on what is and what isn't suitable to put down your drains, and it's really quite simple.
Human waste, along with toilet paper, are THE ONLY things that you should be disposing of through your drainage system. By following this rule, you massively reduce the risk of facing a blockage. Items that are commonly flushed, or disposed of that lead to blocked drains include:
Pouring cooking oil, or excess fats down the sink may at first seem like the most appropriate or convenient method of disposal for these excess by-products of last night's dinner, but they can cause completely avoidable problems.
This waste will slowly but surely stick to the inside of your pipes and solidify when it cools, causing water to back up into your property when facilities are used – not to mention the foul smells that fats, oils and grease are capable of giving off. If you notice foul smells in your property, be sure to give us a call as this is a key indicator of blocked drains.
The best way to dispose of fats is to let them solidify then place in your regular rubbish bin. For commercial properties dealing with mass amounts of fats, oils and grease, make sure to use a grease management system. We can also come and clean your grease traps once full.

Another key producer of blocked drains, especially in households, is;
Sanitary Items and Toiletries
One of the most common causes of blockages at domestic properties is toiletries. What we at Metro Rod Manchester and Macclesfield would call 'misuse and abuse', wet wipes, cotton buds, nappies, dental floss and sanitary items are among a host of products that your drain pipes definitely DO NOT want to see.
It should also be noted that biodegradable products will not necessarily break down in your drainage system, so don't run the risk. Stick them in the bin, dispose of them accordingly, and avoid running the risk of blocked drains.
For information on the services we offer you should encounter any issues or signs of blocked drains, please see our services page here, or feel free to get in touch with Metro Rod Manchester and Macclesfield by emailing [email protected] or calling 01625 879035.
For more information on the areas that we cover across Manchester and Stockport, you can visit www.metrorod.co.uk/manchester, or alternatively for Macclesfield, see here. You can also get in touch with us on the information highlighted above. You can also follow us on Twitter here, and Like us on Facebook here.
Lastly, if you have had Metro Rod Manchester and Macclesfield work on blocked drains or other issues for you in the past and were happy with the service, we would love it if you would leave us a review on Google here!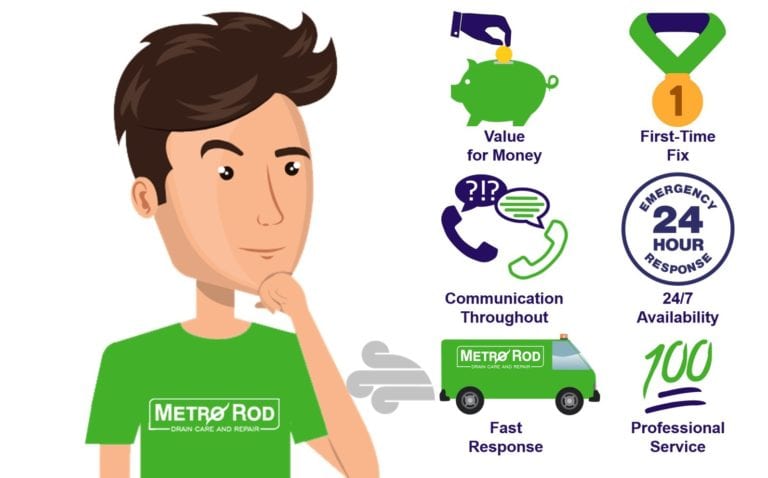 "We guarantee our clients a safe, professional and honest service day and night."