Our engineers are always finding random items down the drains from children's toys to cleaning products! All of which are will certainly cause a blocked toilet in no time!
The only things that should go down your toilet are the 3 P's (Pee, Poop & Paper) as well as Soap, Shampoo and Conditioner. That's it! No cotton buds, nappies, sanitary items or not 'disposable' razors as none of these items will disappear and dissolve and will cause a nasty build up in your drains!
Last week we were called out to a flat in Sheffield with a blocked toilet. Our engineer attended the property the same day and after 10 minutes of trying to unblock the blocked toilet, he discovered something in the pipe..– disposable razors! We're unsure whether this was accidental or if the tenant thought that 'disposable' means they were biodegradable and could be disposed of down the toilet so we wanted to make everyone aware!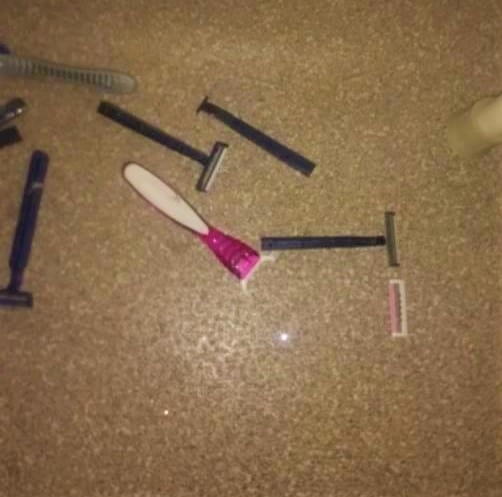 When items are described as 'disposable', this mean they're intended to be thrown away after they've been used such as paper plates and cups. This doesn't mean you can dispose of them down the toilet as they're not biodegradable. If you flush disposable items down the drain, these will get stuck and other waste and tissue paper will pack together and cause a blocked toilet. Save the chaos down the drains and disruption to your property by putting disposable items in the bin.
Sometimes, a blocked toilet is unavoidable and may not be caused by misuse, it could be caused by a damaged pipe or a pipe that may have reached the end of its life. But one thing we know is, no-one wants a blocked toilet and that is where Metro Rod South Yorkshire can help! We operate 24 hours a day, 7 days a week and 365 days a year.
Keep your drains happy and healthy! Bin it – Don't flush it!
Why choose Metro Rod?
The range of services offered by Metro Rod is extensive. Whether it's for gutter cleaning, regular pre-planned maintenance or a specific technical problem, Metro Rod will solve the problem. Simply give us a call on 0808 208 2655 and we would be more than happy to help. We're available 24 hours a day, 7 days a week and 365 days a year across Doncaster, Rotherham, Barnsley & Sheffield!
Metro Rod Doncaster, Rotherham, Barnsley & Sheffield
Visit: https://www.metrorod.co.uk/local/sheffield/
Call us on: 0808 208 2655
Email: [email protected]
Leave Us Some Feedback