Metro Rod Deal With Historically Blocked Car Park Drains
There are many sites that we unblock the drains for in the Liverpool area on a regular basis and recently one of the sites asked us to deal with a blocked drain that they have been having in the car park and on their access roads for many years!
Any time there is a period of heavy rain in the Liverpool area this site would experience massive areas of flooding in their car park, the drains just didn't seem to be adequate to cope with the amounts of water when it rained.  Other drain contractors had been out in the past and tried different things on site but as no permanent solution had been found site had just come to accept that rains would bring flooding and that there wasn't much that they could do about it.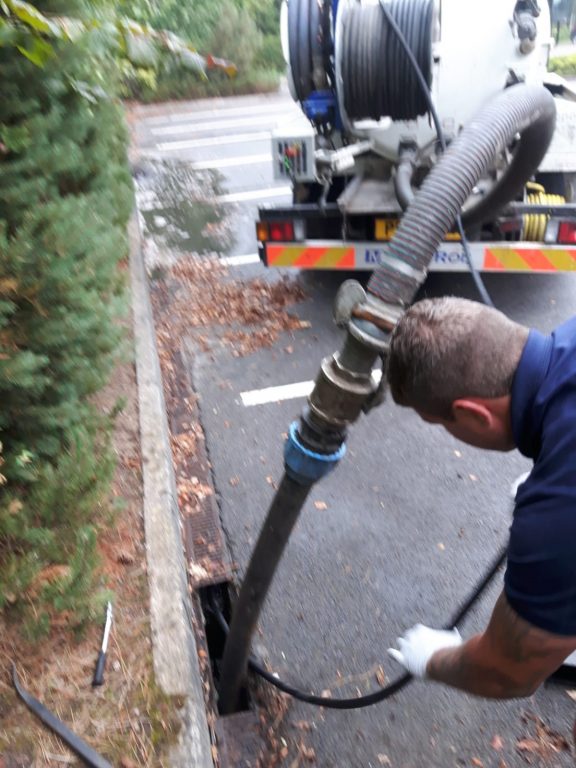 WRONG!
Metro Rod Liverpool hadn't been asked to attend to this problem before!
Site asked us to attend out of hours as the car park is a very busy one and regularly full on a week day and so Andy and Josh attended on a Sunday Morning, meaning minimal disruption to site.  They attended with our smaller tanker unit.  They quickly started work and identified large amounts of roots blocking the aco drainage around site.  The amount of roots found was huge.  Roots are a persistent source of bother in external drainage.  One little crack, gap or displacement and a root can work it's way into the drain, seeking out the water/moisture and can then quickly infiltrate the drainage system.  They grow rapidly and then can take over the available space in the drain, leading to blockages and problems, as seen on the site in Liverpool.  This video, although American, highlights how specialist Root Cutting equipment can deal with Root Infiltration perfectly.  Please click here to watch it.
On site Andy and Josh removed huge amounts of roots from the drainage system, from the aco drains and from the road gullies on site.  They also removed leaves, grass and other rubbish and debris, leaving the drains clean, clear and fully functioning.  We are totally confident that next time there is a torrential downpour of rain in Liverpool that site won't be experiencing any flooding problems on their car park or access roads, excellent news for them!
If you need Metro Rod's expert drain unblocking services, for dealing with any problems on sites across Liverpool, Warrington, Runcorn, Widnes, Southport, St Helens or the surrounding areas please don't hesitate to get in touch with us.  We deal with blocked drains, blocked gullies, blocked toilets, blocked gutters/downpipes and all other drainage problems.  Our engineers are all fully trained, fully uniformed and hold enhanced DBS checks, for our loyal customer's peace of mind.
You can either
Visit our website, www.metrorod.co.uk/Liverpool
email us on [email protected]
Call us on 0151 909 2807
Tweet us on Twitter
Connect with us on our Facebook Page
Connect with Jenny, our Business Development Manager, on LinkedIn
We operate 24/7 and hope to hear from you soon!