Heavy Rains in Liverpool Caused Flash Flooding and Blocked Drains Last Night – Who Could Help? Metro Rod of Course!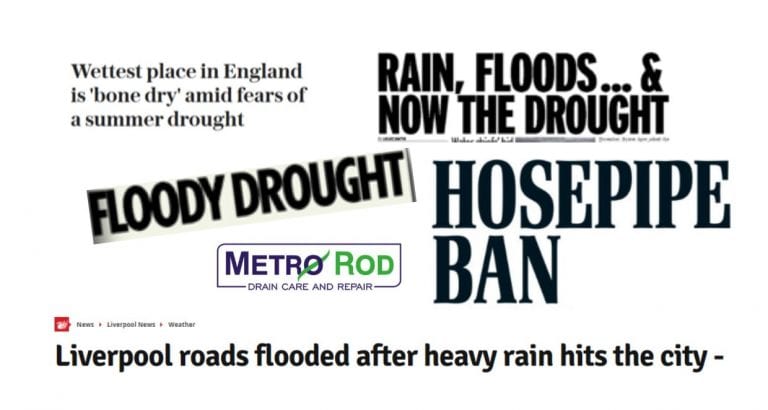 After warnings of drought, threats of hosepipe bans and the periods of record breaking hot weather that we have had locally and across the UK this summer we always knew that when we finally did get a downpour of rain that there was the potential to cause problems such as flooding and blocked drains.  So, last night, Sunday 12th August 2018 when we got our downpour we here at Metro Rod Liverpool were immediately made aware of the problems that it caused!
Our on call managers got five emergency call outs within just half an hour from a variety of clients with a variety of problems, all caused by the sudden heavy rains, we just wanted to outline them below so if you are ever affected by any of these problems then you know that you can come to us and we can fix them straight away!
Call Out A
One of the facilities managers at one of our local hospitals called us as they were experiencing localised flooding in their loading bay.  We all know that hospitals are operating 24 hours a day 7 days a week (much like us here!) and so keeping their facilities up and running is a must.  That's why the local hospitals to us all trust us and use us as their emergency drainage engineers, they know that whatever time of the day or night we will attend their problems and keep site running as well as it can.  We sent one of our on call operatives to the hospital straight away to remedy this problem, we lifted the gully, cleared all of the rubbish, leaves and other associated debris out of it and then went about checking the other nearby gullies to check that they weren't causing a problem also.  Once the engineer was satisfied that he had fixed this blocked drain then he went onto his second job.
Call Out B and C
We had a call from two of the local housing associations that we work for, both with similar problems.  Both of the properties had localised flooding on their properties.  When we attended the first job we had been made aware that the tenants were disabled.  After some investigation work into the flooding that they were experiencing in their back yard our engineer found several metres of drain rods that had been left in the drain from a different drainage company who had been there in the past and obviously tried to unblock the drain, lost their rods and then left them in place rather than retrieve them.  This left the customer with ongoing drainage problems.  Our engineer then managed to remove the rods and the water that had been flooding their back yard immediately drained away.  The second property had similar problems but their flooding was due to the rainwater drain that the downspout drained into being blocked with leaves and hair.  Once this was cleaned out the water again immediately drained away, leaving the tenants happy and without any ongoing drainage problems.
Call Out D
This call out came from a retail site.  They had reported that the rear of their shop had flooded, due to the heavy rain and that this is a regular occurrence in periods of bad weather.  Our engineer investigated and found that the downspout from the roof guttering runs into the rear of the shop into a gully and the volume of water just couldn't be contained, the pipework just couldn't cope.  Our engineer has managed to install new pipework, ensuring that the downspout is now diverted externally.  The customer was more than happy with our service and the fact that heavy rains should no longer cause them problems on site.
Call Out E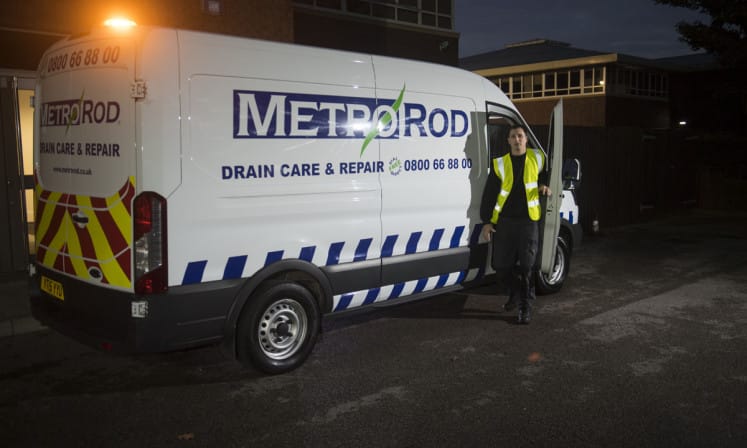 The facilities manager of one of our local schools got in touch to say that they were experiencing flooding problems in their staff car park and playground.  Our engineer attended and lifted the gullies and found that they were full of roots.  We have arranged to go back to site this morning to cut the roots out of the gullies and investigate to ensure that there are no further problems in the drains.
As you can see, even though we had several calls in a short period of time, we here at Metro Rod Liverpool attended all of the sites within just two hours of the calls being placed – we had several crews of operatives out dealing with these emergencies as we ensure that whatever the time of day you will always get the same great service from us, be it 5am or 4pm!  That's just the Metro Rod way.
If you do have any drainage problems at your home, business or site then we are always here to help, a call to 0151 909 2807 will always get you through directly to an on call manager who can start to diagnose your problems and ascertain the best way to deal with them.  If you have blocked drains, blocked toilets or sinks, overflowing gutters or downpipes or just want bad drainage smells investigating then you only need to call, we can fix all problems big or small!
You can also contact us by
Visiting our website – www.metrorod.co.uk/Liverpool
Going to our Facebook Page
Visiting our Twitter Page
Emailing us: [email protected]
Connecting with Jenny, our Business Development Manager on LinkedIn
We hope to hear from you soon!