CCTV drain surveys are used for a variety of reasons, but there is one primary reason for having them carried out. Whether you're facing reoccurring blockages, or are selling your property and need to carry out a structural check, Metro Rod Manchester and Macclesfield can carry out a CCTV drain survey to accurately diagnose any underlying issues, which is critical for cost effective maintenance. We will also provide you with a copy of the CCTV drain survey report, and if applicable, suggest an immediate course of action to take to ensure your drains can function to the best of their ability.
Metro Rod Manchester and Macclesfield is an industry-leading expert in CCTV drain surveys, reporting, and maintenance. Homes and businesses across Manchester, Stockport, Macclesfield, and the surrounding areas of Cheshire can trust us to offer the right solution at the right price.
As industry experts in CCTV drain surveys, Metro Rod Manchester and Macclesfield have invested in innovative technologies, such as the iTouch Live CCTV system, allowing us to deliver CCTV drain surveys that you can view in 'real-time'. We are also able to directly stream the survey to our office, meaning that in most cases, your CCTV drain survey has already progressed to the next stage of processing before our engineer has left site. This means that we are able to conclude each of our reports much more quickly than before. At Metro Rod Manchester and Macclesfield, we understand that time is valuable, whether you're a domestic customer, or a commercial customer with clients to please. Using iTouch CCTV drain surveys cuts time and costs, and massively improves efficiency.
There are a handful of typical reasons behind why a CCTV drain survey from Metro Rod Manchester and Macclesfield will benefit you or your business:
Homebuyer's Survey
Buying your first home, or moving house is always a costly affair, and could even be the single biggest financial decision you'll ever have to make. Damaged drains in domestic properties are often caused by old age, or tree roots naturally growing into them. These are a major cause of blockages, which can cause water to leak into the surrounding soil. If not diagnosed and treated at an early stage, it can lead to collapsed drains or subsidence. By having Metro Rod Manchester and Macclesfield undertake a CCTV drain survey at your property, you minimise the risk of having to fork out unnecessary and extremely costly expenditure of drain replacement, or in worse cases, structural amendments to the foundations of your property.
Vendor
In contrast, if you are selling your property, the last thing you will want is any delays caused by damaged drains. This can lead to you potentially having to sell your property at a lower price, or worst case scenario, the buyer may withdraw their offer. Metro Rod Manchester's CCTV drain surveys will highlight what needs to be done with regards to keeping your property's drains in the best condition for the housing handover.
Purchaser
CCTV drain surveys are now something that mortgage lenders, insurers and surveyors will insist on if your new home is over a certain age. It is also common for insurers to refuse to payout for inherited problems that you may encounter at a new property, should the previous owner not have had a CCTV drain survey taken out before the handover. By having one, you can save yourself a lot of money in the long run.
Build-Over Survey
If you're wanting to build an extension on your property, such as a conservatory, the local water authority will insist that you have a CCTV drain survey undertaken if you are building near to or over their assets. This is to ensure that no damage is caused during the building process, but also identifies defects and allows for repairs to be made either prior to or during the building process.
Large Diameter Surveys
Metro Rod Manchester and Macclesfield has a variety of CCTV drain survey units, allowing us to survey drainage systems of all sizes. For larger sites, we use a crawler unit with the camera system attached to it, which is remotely controlled by one of our expert engineers, and offers a panoramic view of the condition of your drains. All of our surveys are carried out to the latest industry standard.
For more information on CCTV drain surveys and other services by Metro Rod Manchester, you can see our services page here, or feel free to call us today on 01625 879035, or email [email protected]. For the areas that we cover, please see our local Manchester page here (including Stockport), or Macclesfield page here, and for up to date information and news stories surrounding Metro Rod Manchester and Macclesfield, you can follow our Twitter page here, and like our Facebook page here.
Lastly, if you have had Metro Rod Manchester and Macclesfield carry out a CCTV drain survey for you in the past, or help with other issues, we would love it if you would leave us a review on Google here!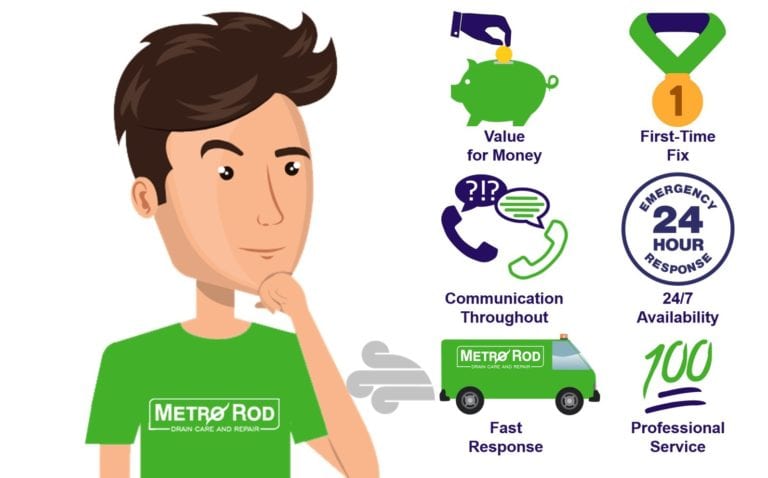 "We guarantee our clients a safe, professional and honest service day and night."