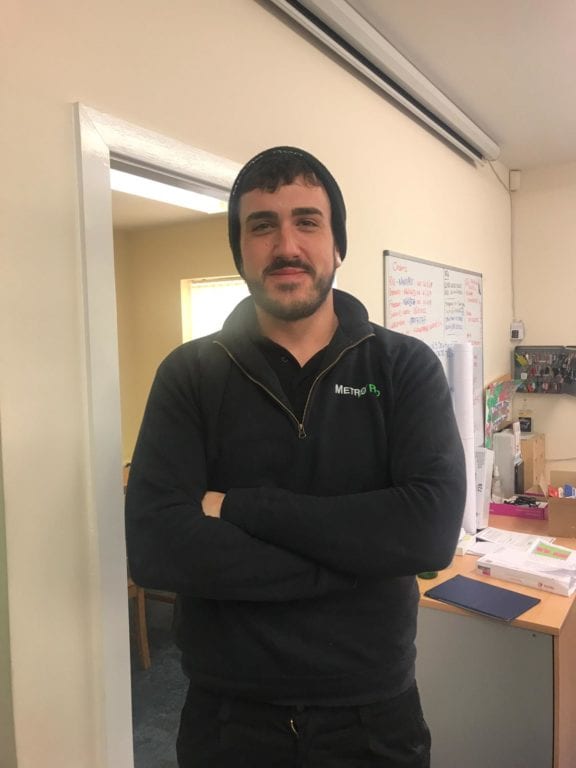 Here at Metro Rod North East we have a team of engineers all working tirelessly, around the clock, to ensure that the North East drains are flowing – true drainage heroes!
We have decided to give you an insight into the daily life of a drainage engineer – grab a cuppa, sit back, relax and enjoy!
Lee has been with us now since April 2017 and started as a General Assistant but it didn't take long for him to progress and become an engineer. His day can start anywhere from 6am but more typically he starts at 8.30am.
First job – Whitley Bay
Lee's first job is a blocked drain in Whitley Bay. Lee was able to locate the blocked manhole and use High Pressure Water Jetting Equipment to unblock and restore flow. Once this had been done he had a look and see with CCTV Equipment to ensure the blockage was gone and there were no defects in the drain.
We always try to give our customers the best service to ensure that once we leave the drains won't re-block.
Problem resolved, customer happy now on to the next……
Second Job – Newcastle
Our second job is a commercial site in Newcastle who had suffered from blocked drains that had overflowed and spilled on to the floor.
After unblocking the drain the engineer carried out a full sanitisation of the area using our specialist cleaning product which kills 99.9998% of bacteria and is also 100% organic. We were able to provide our client with a certificate of sanitisation on completion.
One of Lee's favourite things about being an engineer is that each job is different and we have a wide variety of customers so every day is completely different.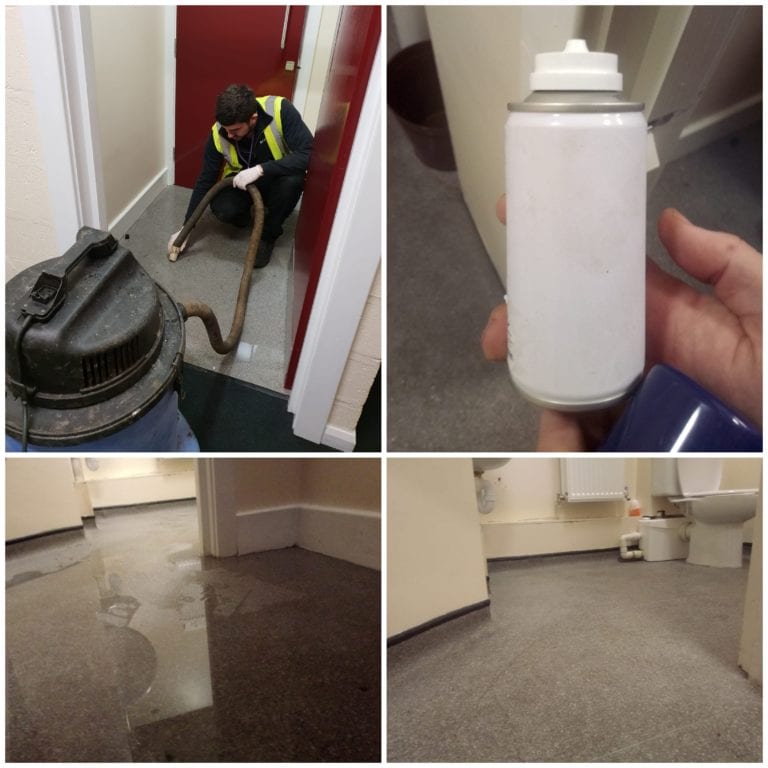 Third Job – Wallsend
No rest for our drainage hero – straight on to job number three. We attended a blocked drain in Wallsend and the engineer found that the toilet and bath were both blocked. Lee located the blockage between the manhole and the soil stack and used High Pressure Water Jetting Equipment to unblock.
Another happy customer…. Must be lunch time now?
Before heading off to his next job Lee has time for a quick lunch stop and on the menu today is Chicken, lots of chicken! Lee is a keen gym enthusiast and likes to look after himself.
Fourth Job – Wallsend
Lee attended another job in Wallsend for a blocked down pipe. He was able to use kinetic force to remove the blockage and regain full flow.
Fifth Job – West Allotment
Job number five is multiple blocked toilets at West Allotment. Upon further investigation Lee found that there is a problem with the primary pipe work causing a build-up of scale and uric acid causing the urinals and male toilets to have restricted flow. Lee removed the blockage of scale and unblocked the toilets, regaining full flow.
He then discussed with the customer a Pre-Planned Maintenance programme to come back and clean the system on a regular basis at a time that was convenient with the customer. This will reduce emergency blockages that can cause disruption to the customer and their operations.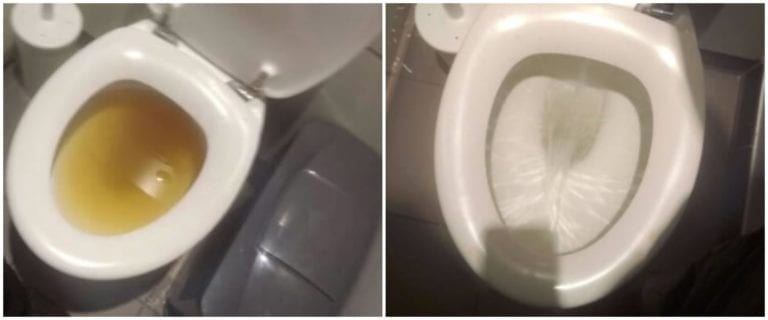 Final Job of the day! – Ashington
This Client logged a job through their Facilities maintenance company who passed the details onto Metro Rod. The issue? A blocked drain in the back yard.
Lee found that the blockage is being caused by soap scale from the washing machine so he removed the blockage and checked the line using CCTV Equipment to ensure there are no issues in the drain.
5.15pm and finished for today but before heading home Lee will always ring up to find out information for his job for the following day and if he needs any equipment.
He can then clean and prepare his van before getting ready to head home for some rest in preparation for the next shift.
As you can see from Lee's day our engineers deal with a variety of different issues daily. As well as resolving our customer's problems they have to always consider the health and safety for themselves, the customer and the general public. The engineer does a risk assessment before starting each job to assess the hazards so he can put the training he has into practice and use the correct PPE and safety Equipment.
We hope you have enjoyed our insight into a typical day as a drainage engineer. To find out more information you can contact us in the following ways:
Call us on 0191 2312310
Email us at [email protected]
Visit our website
Follow us on Twitter
Like us on Facebook