Christmas time means turkey dinners, family gatherings and copious amounts of food. Although it's a wonderful time of year, for household drains it means an increase in fats, oils and grease, particularly turkey grease, going down the pipes and clogging them up!
At Metro Rod we want to educate people on how to properly dispose of grease and avoid a drain blockage this Christmas, and throwing turkey grease down the drain is a sure-fire way to clog pipes and create a sad recipe for Christmas day. The last thing you need is a flooded house when you've got guests to entertain and an extravagant meal to prepare! You definitely don't want to be smelling the inside of a sewer rather than a delicious Christmas dinner cooking.
Unfortunately, improper disposal of fats, oils and grease rendered from cooking a Christmas turkey is a common mistake. But if you would like to avoid an engineer coming out to you on the most special and anticipated day of the year, then Metro Rod strongly advise that you don't pour excess turkey grease down the drain.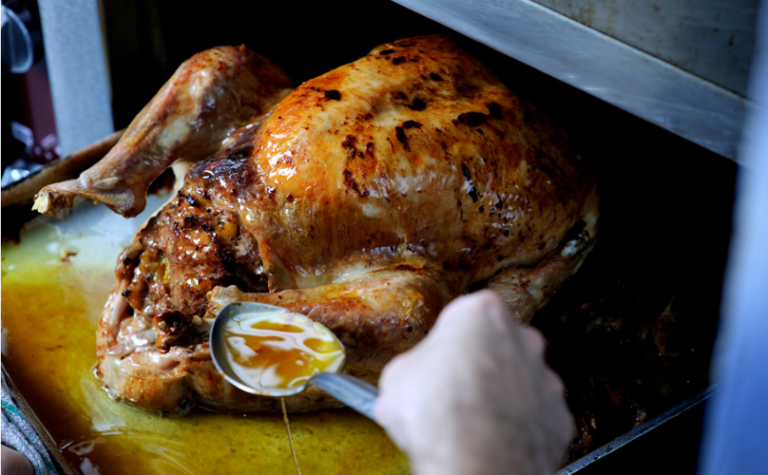 When you dispose of your Christmas turkey drippings down the drain, they quickly cool and solidify and then stick to the side of the sewers. This could potentially then form a fat-berg – a concrete-like solid that attracts other debris and eventually causes a blockage. The fat-berg then causes the waste water to spill out into roads or even people's homes.
Instead, you should clean up turkey grease with paper towels or kitchen roll, and then discard these in the bin. Alternatively, you can scrape the cooled grease into a container and then place in the freezer. Once frozen, you can throw the hardened oils in the bin.
However, if you are unfortunate enough to experience any drain blockages over the holidays, Metro Rod are here 24 hours a day, 7 days a week and 365 days a year to assist you. We are able to tackle your drainage emergency quickly, cleanly and safely to make sure you still have a fantastic Christmas. We also have forty centres across the UK and provide nationwide coverage. So, if you need some assistance this Christmas, just give us a call on 0800 66 88 00 and one of our local engineers will be with you in no time!
Image credits: http://modernnotion.com/