Don't take drains for granted in your business – Free Download.
Running a business is hard work and stressful enough without any nuisance disasters such as blocked drains.
Whether you're a large or small company, blocked drains can cause potential temporary closure of a business if not maintained properly. Pre-planned maintenance is something we can help with. Metro Rod West Yorkshire understands that every business is unique and will face different problems and therefore provide bespoke planned maintenance.
Whether a business is open to the general public or not, your business is likely to have two of the following:
Toilets/urinals
Sinks
Grease Traps
Septic Tank Management System
External rainwater drains
Metro Rod West Yorkshire can provide a pre-planned maintenance agreement to help prevent any blocked drains or any other drainage emergencies no matter how complex.
Do you need a PPM (Pre-planned Maintenance) plan?
If you want to be preventative, and protect yourself from potential disaster a pre-planned maintenance plan sounds like what you need. Metro Rod West Yorkshire is open 365 days a year, 24/7, therefore, we can attend your premises at any convenient time for you to assess your requirements.
How it works: A technical surveyor from Metro Rod West Yorkshire will visit the site to carry out the survey, analysing any previous damage or problems of concern. Usually an initial clean will be recommended to allow pipework to free-flow back to optimal performance. From the details and information collected, a tailor-made programme will be prepared to show what parts of your drainage system require emergency or frequent attention. Engineers will be able to carry out scheduled works as agreed by prior arrangement.
= Tailor-made pre-planned maintenance for your business.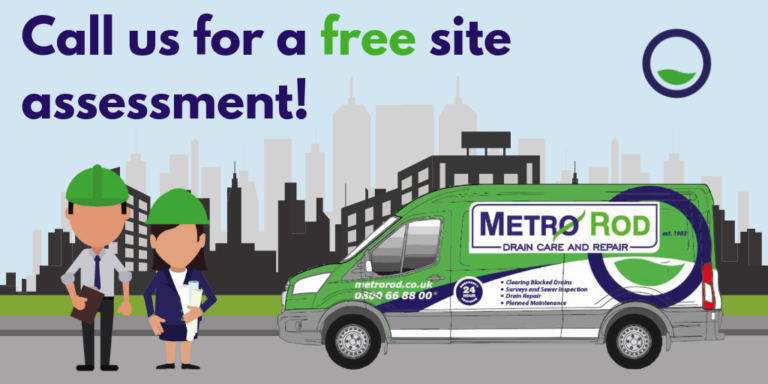 What else can you do?
You can't control what your staff are flushing down your drains, neither can you with the general public. Most people turn a blind eye to the consequences of a quick flush of a wipe or are genuinely unaware of the damage they can cause.
Yorkshire Water has confirmed that 40% of blocked drains in Yorkshire is down to our population putting the wrong things down the drains! Drain pipes are designed to carry water, human waste and tissue paper – anything else and this can cause items to get lodged and build blockages.
Blocked drains stop wastewater from leaving your premises. If wastewater cannot leave the premises it will back up and come out of your toilets and sinks, potentially causing floods. As well as flooding your businesses and homes, flushing inappropriate items can cause blocked drains causing sewerage to flood roads, pavements and rivers.
Another possible way for you to protect your business from blocked drains would be to have informational posters around your workplace by toilets and sinks. Did you know the human brain can process an image in just 13 milliseconds and actually process visuals 60,000 times faster than they do text?
We have designed two posters that can be useful to help prevent the wrong things being flushed down your drain.
Click the image below for your free download of the 'No Go' list.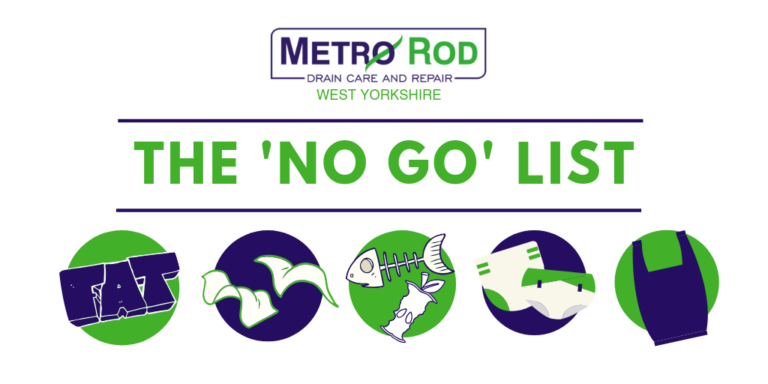 Click the image below for your free download of 'Our Home'.
Got blocked drains? Visit our website:
Metro Rod Leeds & Wakefield, Metro Rod Bradford & Huddersfield
Email us on [email protected]
Call us on 01484 844100.
Have we unblocked your drains? Leave Us Some Feedback
At Metro Rod, we appreciate feedback from our customers so that we can continue to improve our services. If you have recently had drain repair or any other work carried out by Metro Rod West Yorkshire, please feel free to leave us a review on either the following: