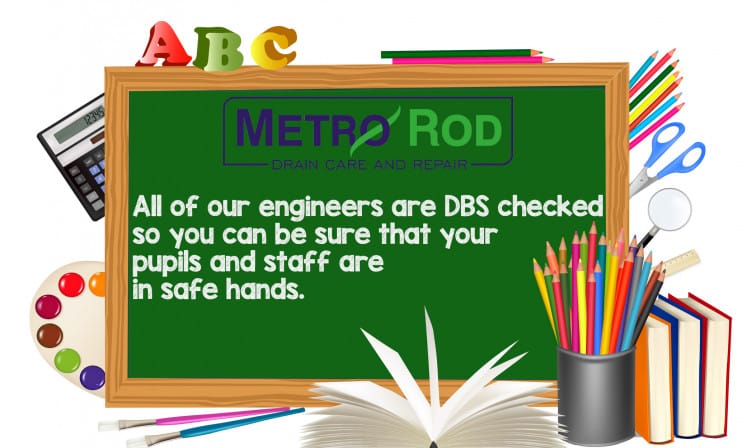 As half -term arrives it's worth reflecting that across the school year education premises and facilities undergo a huge amount of wear and tear. A blocked drain, blocked toilet or flooding issue can cause significant inconvenience, even leading to the temporary closure of an education institution and a real life "brain drain". It's therefore really important for Facilities Managers and Estates Managers for Reading schools and colleges to include drain care and maintenance on their "to do" lists.
Metro Rod Reading have vast experience in providing drain care and repair to schools, colleges and universities in Reading and the Thames Valley area from Ascot, Slough and Maidenhead to Newbury, Marlborough and Swindon. We  offer a range of drainage services that will keep your drains free-flowing and trouble-free :
• Emergency clearance of blocked drains
• Pre-planned maintenance visits. Prevention is better than cure when it comes to maintaining your site drains.
• CCTV drain survey and repair of damaged drains
• Gutter cleaning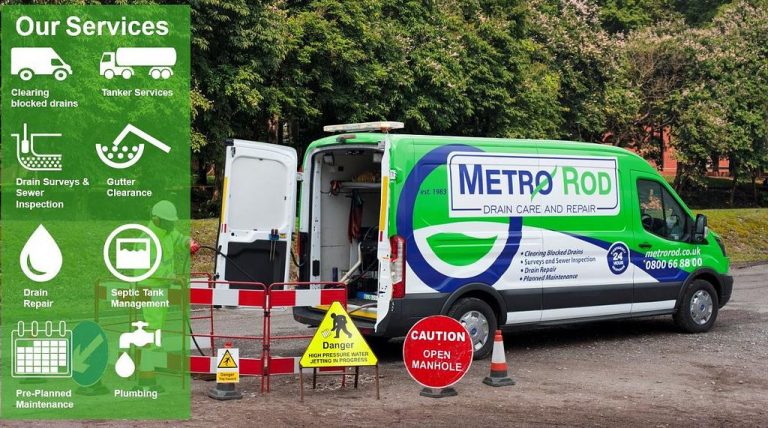 Pre-planned maintenance is perhaps the service that will benefit schools and colleges in the Reading area the most. By ensuring that site drainage is regularly cleaned and maintained the chances of blockage reduce markedly meaning that, as long as good practice is encouraged on a school site then there will be a vastly reduced possibility of  interruption due to drainage issues. Typically a maintenance clean will flush and clean all site drainage both internal pipework, for instance that serving urinals, and external drains accessed via manholes on the school or college grounds.
Metro Rod Reading provide drain care 24/7/365 meaning a school or college can choose what day and time suits you best. For example this could be during the school holidays or when the school day finished, resulting in the pupils not being distracted.
All Metro Rod Reading engineers are DBS checked and fully trained in the use of equipment and all relevant  health and safety procedure. For the security of your school, we will confirm the name and number plate registration of each drainage engineer. all of whom carry appropriate ID cards. Schools, colleges and Universities can rely on Metro Rod reading working professionally and safely.
How to identify a blocked drain:
• Slow draining water in sinks and toilets
• Foul smell coming from drains, this could be a build up of food, toilet paper, wet wipes or fatty grease
• Over flowing drain or manhole
Common causes of blocked drain in the Reading area:
• Fat, oil and grease build up. This is particularly common in drains serving school kitchens.
• Flushing too much toilet paper down the toilet
• Drains becoming structurally damaged or displaced by ground movement or animal activity
• Tree roots growing into drains that can cause cracks and splits in drains
• Uric scale – made up of uric salt crystals that is found in urine, over a long period of time, this can coat the pipe walls and dry up, this can then restrict the flow of water and cause a blocked drain
Preventing a blocked drain:
• Not flushing a large amount of toilet paper down the toilets at any one time
• Fitting and maintaining grease traps fitted – Metro Rod Reading can offer this service to schools which can prevent grease being flushed through drains and decrease the cause of blocked drains
• CCTV surveys on school drains will enable us to view the inside of your drains. This can help School premises managers see the cause of issues in drains which are becoming blocked and facilitate correct diagnosis and repair.
• Pre-planned maintenance is key in any school and Metro Rod Reading is happy to conduct a free initial site assessment of any school or college site in the Reading, Berkshire and Thames Valley area in order to make informed and sensible recommendations to maintain site drains and prevent blockages and problems.
If you are responsible for maintenance of a school or college site in Reading, Berkshire or anywhere in the Thames Valley area just call us on 0808 208 2654 for a friendly and helpful discussion on how we might be able to support you with drain care and repair . Should an unforseen emergency strike you can also call us on this number or alternatively on our emergency helpline on 0800 66 88 00 24 hours a day.
You can also contact us by:
Going to www.metrorod.co.uk/local/reading/
Emailing us at [email protected]
Connecting with Andrew, our Managing Director on LinkedIn