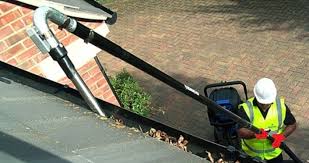 Drain maintenance and repair in Swindon, Wiltshire and throughout the whole Thames Valley region is usually a low-level affair with our drainage engineers typically attending to underground drainage systems accessed via manhole chambers and using high pressure water jetting equipment.
A blocked drain, blocked toilet or blocked sink in Swindon, Marlborough, Hungerford, Reading, Marlow or Newbury might also involve clearing internal pipework using our electro-mechanical cleaning equipment and multi-storey buildings will often involve us clearing vertical soil stacks where build up of scale can cause problems unless there is a regular pre-planned maintenance regime in place.
All of this is perhaps what you would expect from a drainage company when it comes to drain unblocking, drain cleaning and drain maintenance. However did you know that Metro Rod Swindon can also clean your site gutters ?
After all what is a gutter but an elevated storm-water drain ? Gutters form part of your site's drainage system every bit as much as the internal pipes and external gullies and drains which remove both foul and storm water from your building.
One of the attractive features of living in Swindon, Wiltshire and the Thames Valley is the green and pleasant environment enhanced, of course, by the presence of many trees. However trees can cause problems not only via root ingress into underground drain pipes (as our previous website article illustrated) but also, in Autumn through falling leaves blocking gutters.
It's extremely common for leaves and twigs to blow from trees onto your roof and into your gutters. The longer the leaves remain in there, the wetter they will get, and wet leaves are even harder to remove from a gutter; this can develop into mould and can soon totally block a gutter and render it ineffective in channelling water safely away from your property.
At Metro Rod Swindon we can, subject to accessibility, clear gutters on buildings up to 3 storeys in height using our innovative Metro Vac technology. As shown in the above photograph this is operated from ground level with the operator having the benefit of being able to see inside the guttering as he works by virtue of a camera unit mounted on the nozzle of the Metro Vac.
Don't risk blocked gutters from Autumn leaf-fall causing you problems this winter. Simply book in your gutter-clean with us and have peace of mind.
At Metro Rod Swindon we offer our customers in Reading, Slough. Maidenhead, Windsor, Ascot, Henley, Marlow, Newbury, Hungerford, Marlborough and Swindon a fully comprehensive covering all aspects of drainage works AND gutter cleaning :
reactive and emergency drain unblocking
pre-planned drain maintenance cleans for commercial and high-usage sites
CCTV drain survey
Drain repair , using no-dig technologies wherever possible
Tanker services
For a safe professional and honest service day or night contact Metro Rod Swindon today and experience our helpful service for yourself :
Call us on 0118 950 4477
Go to www.metrorod.co.uk/local/reading/
Email us at [email protected]
Connect with Andrew, our Managing Director on LinkedIn