FAT, OIL AND GREASE (FOG)
When you work in a food preparation environment you are obligated by the Food Safety Act 1990 to have a reliable and effective grease management system.
Extract from the UK building regulations 2000 amended April 2002:
"H1 Foul Water Drainage-2.21 Drainage serving kitchens in commercial hot food premises should be fitted with a grease separator complying with En 1825-1 a grease separator and designed in accordance with EN 1825-2 or other effective means of grease removal."
There are several legal requirements in place such as Water Industry Act 1991, Environmental Protection Act 1990 and the Food Safety Act 1990 to help prevent FOG from entering the drains. Failure to adhere to these can lead to fines and prosecution.
Metro Rod FOG experts will attend your site free of charge in order to have a look at the current system in place and discuss which method is best for you.
Metro Rod North East is offering you two options in order to avoid problems with FOG:
FATBUSTER
Metro Rod's Fatbuster can help fat and grease deposits flow freely without blocking the drainage system.
Fatbuster is a unique formula of bacteria, specially selected for their ability to digest grease and helps to maintain flow within drainage systems and fat traps.
We install, maintain and service the dosing unit which is simple to install and environmentally friendly. The unit is compact and battery operated which eliminates the need for costly and disruptive wiring. The system has an electronic timer for accurate and regular dosage.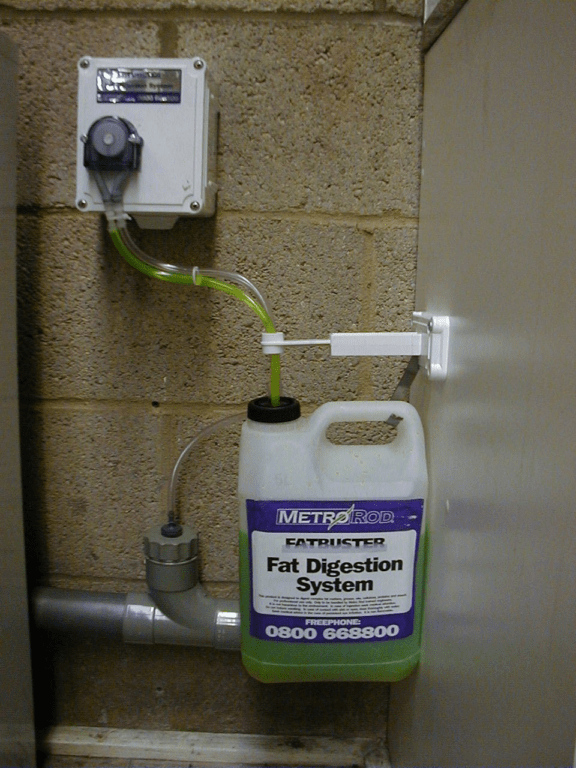 GREASE TRAPS
Grease traps are placed in the drainage system and are specifically designed in order to separate FOG from the rest of the waste water allowing the waste water to continue to flow without contamination or blockages.
Metro Rod North East are licensed waste carriers and will collect the FOG in the grease trap on regular intervals, clean the grease trap and flow test to ensure everything is working correctly.
You will be provided with a maintenance record of our attendance.
If you do not have a grease trap installed Metro Rod North East will be able to install one as well as servicing and maintaining it.
Take a look at our Fb Page
Head over to our twitter page for up to date posts
Check out our LinkedIn profile
Go to our Main page to get in touch