Are you prepared for a Flash Flood in Doncaster, Rotherham, Barnsley and Sheffield?
It seems that the heatwave has calmed down as the temperature lowers and now we're forecast a flash flood here in South Yorkshire! The hot weather was lovely while it lasted but it's time to put away the sunglasses and grab our umbrellas as the Met Office raises yellow severe weather warnings!
Due to the unpredictable nature of a flash flood, it's difficult to know exactly when the flash flood will start and where will be affected so it's important to be prepared and know what to do in the event of a flood in your home or business.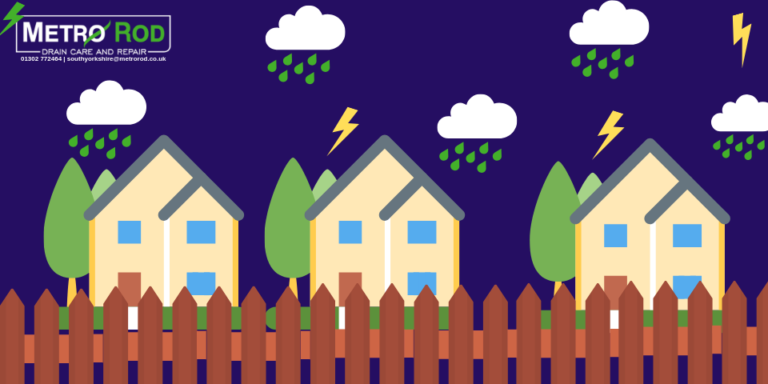 What should I do in the event of a flash flood?
A flash flood can happen in a matter of minutes with no warning and can be extremely devastating whether they're at home or at your place of work so it's important to know what to do in the event of a flash flood.
If you think the water is going to come into your property during a flash flood, turn off all gas, electric and water. the property. **DO NOT TOUCH ELECTRICAL ITEMS WHEN STANDING IN WATER! **
Make yourself an emergency flood kit including: bottled water, first aid kit, important prescribed medication and non-perishable food.
If you're outside during a flash flood, try and stay on the highest possible ground. If you're at home, move your essential items upstairs or on top of high furniture and stay upstairs if it's safe to do so.
Don't walk, swim or drive through floods. There can be hidden dangers beneath the water such as contamination, debris or structural damage.
Follow flood alerts by Met Office to keep up to date with the latest reports.
How can Metro Rod help reduce the effects of a flash flood?
Pre-Planned Maintenance
Keeping your drains healthy and clear is the most important thing you can do to reduce the chances of flooding at your property during a flash flood. Introducing a Pre-Planned Maintenance programme will leave your drainage system flowing freely, your business open as usual and will save you money in the long-term. If your drains are built up of silt and debris, this will slow down the flow of water and will ultimately cause a flood if the water can't get through the pipes quick enough.
A Pre-Planned Maintenance programme is tailored to you so whether you'd like all drains clearing every 3, 6 or 12 months, it's entirely up to you.
24 Hour Response
We have a team of skilled engineers who are available 24 hours a day, 7 days a week to help with emergency callouts. We also have a UK based call centre who are available to deal with your enquiries all day, every day. Our engineers come fully equipped to tackle any problem given, to offer a first-time fix wherever possible. Whether that's a new flush handle on your toilet or a tanker to remove high volumes of water, we've got you covered!
Experienced Drainage Experts
Metro Rod South Yorkshire has over 23 years' experience resolving drainage problems across Doncaster, Rotherham, Barnsley and Sheffield in both domestic and commercial properties. We have a fleet of vehicles which are able to pump away any floods and clean up the area, ensuring that everywhere is safe. All of our vehicles are equipped with materials to offer a first-time fix wherever possible so your business can be open as usual in no time!
Please stay safe during the flash flood and if you've been affected and need help, call Metro Rod on 0800 66 88 00.
Metro Rod Doncaster, Rotherham, Barnsley and Sheffield
Visit: https://www.metrorod.co.uk/local/sheffield/
Call us on: 0808 208 2655
Email: [email protected]
Leave Us Some Feedback