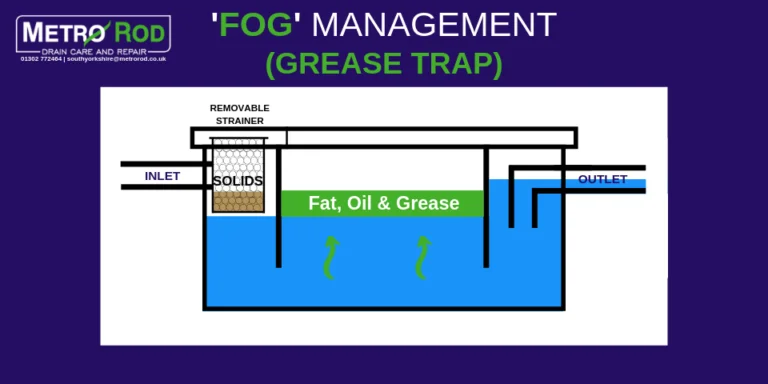 The hospitality industry is extremely competitive, with customer service being the number one priority. We understand how disruptive one day of closure can be for any business, particularly restaurants, cafes, bars and hotels that see hundreds of people coming through their doors on a daily basis. That's why it is so important to manage and maintain your facilities, and why we at Metro Rod offer a grease trap emptying service.
Nearly half a million tonnes of FOG enters the UK sewerage system every year and cause blocked drains. The grease sticks to the walls of our pipes and builds up, eventually leading to blocked drains. Fats and oils then damage wastewater equipment which generates costly repairs. If FOG reaches a natural watercourse, they can cause damage to the environment.
When you work in a food preparation environment you are obligated by the Food Safety Act 1990 to have a reliable and effective grease management system. Metro Rod Fat Oil and Grease (FOG) experts will attend your site free of charge in order to have a look at your current system in place and discuss what method of disposal is best for your premises.
Grease Traps are placed in the drainage system and are specifically designed in order to separate FOG from the rest of the waste water allowing the water to continue to flow without contamination or blockages.
Grease Traps: How do they help prevent blocked drains?
Fortunately, there are grease management systems called grease traps designed to intercept FOG and solids before they enter a wastewater system and cause blocked drains.  These can prevent your business from blocked drains, costly repairs or temporary closure. They are used in a wide range of environments here are some of them listed below:
Restaurants
Cafe's
Takeaways
Pubs, bars and inns
Hotels
Schools and colleges
Bakeries
How can we help you with blocked drains?
Here at Metro Rod, we can install a brand-new grease trap or replace an old grease trap. This will help prevent blocked drains and protect your pipes. However, if the grease trap is not maintained properly this will lead to blocked drains again. Once we have fitted your new grease trap we can schedule pre-planned maintenance to empty the grease trap and clean them. This can be as little or often as you need depending on what suits your business.
Grease Trap Management prevents blocked drains!
It is important to clean out grease traps on a regular basis. Over time, solids and grease build-up, and can reach a point when they can flow back through the inlet causing blocked drains. This could mean a blocked sink in your commercial kitchen along with nasty smells. We can set up a schedule depending on your business to frequently empty and maintain the grease trap. We can come in an empty the trap early in the day before the kitchen gets busy, or we can come and empty it after the kitchen is closed.
Blocked drains and blocked sinks can cause significant inconvenience to food and drink premises, and in worst case scenarios, can lead to the temporary closure of your business. If you're a Facilities or operations manager across Dorset give us a call as we are your local drainage company with 30 years expertise in unblocking blocked drains, drain repair, PPM and grease trap installation, emptying and maintenance.
Our engineers are on call 24hrs, 7 days a week, day or night if you do run in to difficulty with your drains across Bournemouth, Poole, Portsmouth, Hampshire and Dorset and rural villages. Call 01258 863745/0808 250 9905. We also carry out CCTV Camera Surveys, Gutter Clearance, Septic Tank Management, Drain Repair and other Tanker Services for homes and businesses.