Happy #vegetarianweek to all of our veggie and vegan friends out there! This week if you are a non veggie its a great way to be more aware and do your bit for the planet by trying a delicious veggie meal – maybe something you've never tried before!
Did you know that Food Manufacturing, Food Processing and Hospitality is part of the niche sectors we provide drainage services for?! With high volumes of food being processed and prepared in food manufacturing factories life is fast paced and when problems happen in drainage – Metro Rod Cambridge are always on hand to save the day!
If you know Metro Rod, we are THE experts in unblocking drains, toilet blocking and gutter clearing. For busy industries involved in food processing, preparing and hospitality the day cannot stop due to a blocked drain. Metro Rod Cambridge offer a 24/7/365 emergency unblocking service for all drains, toilets, sinks and gutters. We can service and clear pump chambers and pits belonging to manufacturing sites and commercial properties.
Our colleagues "up North" in Manchester work alongside Kelloggs. Here is a blog post regarding their work Metro Rod Manchester and Food Manufacturing
Here is an example of some of the Companies we work along side providing draincare and drain unblocking services.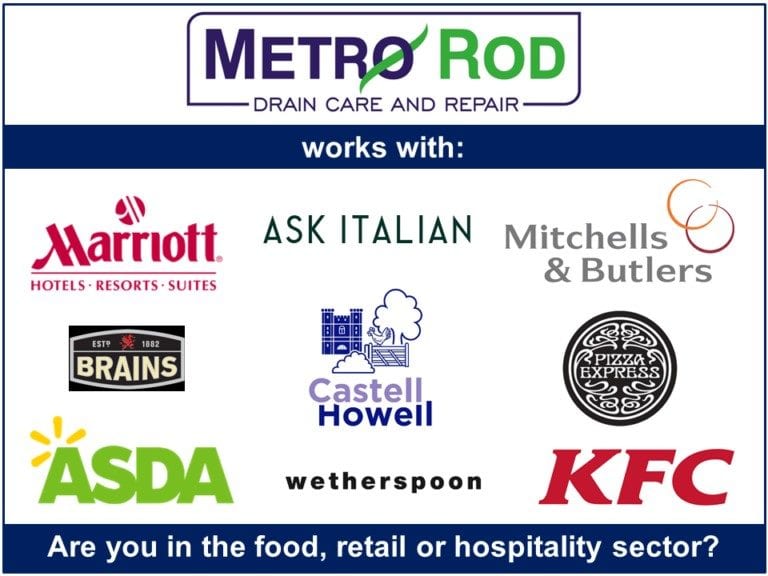 Fats, Oils and Grease used in processing and cooking are also know as F.O.G, these are a huge problem within these industries. Blockages involving Fats are a huge drain (pardon the pun). This article by our Devon franchise is a perfect example of why businesses should treat F.O.G seriously –  Fat Bergs in Devon
Metro Rod Cambridge offers a Grease Trap Emptying Service to all local restaurants, cafes and Takeaways along with in the local area of Cambridge, Ely, Downham Market, Kings Lynn, Bury St Edmunds, Thetford, Brandon and all the places in between.
What is a Grease Trap?
A grease trap is a plumbing device designed to intercept most greases and solids before they enter a wastewater system. Common wastewater contains small amounts of oils which enter into septic tanks and treatment facilities to form a floating scum layer. Common wastewater contains small amounts of oils which enter into septic tanks and treatment facilities to form a floating scum layer. This scum layer is very slowly digested and broken down by microorganisms in the anaerobic digestion process. Large amounts of oil from food preparation in restaurants can overwhelm a septic tank or treatment facility, causing release of untreated sewage into the environment. High-viscosity fats and cooking grease such as lard solidify when cooled, and can combine with other disposed solids to block drain pipes.

Metro Rod Cambridge have been empyting Grease Traps for over 20 years and have a vast amount of experience. If you have a Grease Trap installed in your kitchen and would like a quotation for empyting, please do not hesitate to contact us. If you would like a Grease Trap installed, we can also arrange for this to be done.
Get in touch on 01352 659047
Email us at [email protected]
Visit our website www.metrorod.co.uk
Visit our Facebook and Twitter Pages for more news
Connect with our Business Development Manager, Naomi on Linkedin