The importance of being efficient with your guttering.
Nobody wants a clogged gutter! Not only do they look unsightly but they can drastically affect the wellbeing of your home and can often lead to serious problems such as leaky roofs or water damage to either the inside or the outside of your home.
Oh no, my gutters are clogged!
Gutters are an integral piece of your home's wellbeing. They serve to control the flow of rainwater to protect your roof, walls, foundation and landscape, and when these are clogged with debris, leaks can occur and damage begins to become evident. If not dealt with, damage to the roof and fascia can cause serious roof problems such as wood rot, and pooling at the foundations can lead to a damaged or cracked foundation, which will in turn undermine the integrity of the structure of your beloved home.
Regular gutter cleaning will reduce the risk of long term damage to your home and will prevent the possibility of serious water related damage and consequently save you on expensive and difficult repairs. Gutter cleaning and maintenance aims to save home owners from devastating and costly damage to their property, but it doesn't need to be a chore!
What should I do when my gutters are clogged?
Gutter maintenance is often avoided because of access difficulty and a lack of space or stability for ladder use. Often, this is the most common reason guttering becomes neglected.
Here at Metro Rod, we recommend cleaning your gutters at least twice a year – once in the Spring and one in Autumn to clear out the falling debris and prevent clogging. However, if you live in an area with a higher volume of tree fallout than most, we recommend maintaining your gutters up to 4 times a year to ensure you remain free flowing and clear.
To make this process as easy as possible, we offer our innovative Metro Vac gutter cleaning system to take the hard work out of gutter clearing for both domestic and commercial properties.
What we offer:
The state-of-the-art Metro Vac system uses long poles that can reach up to 10 metres high to clean gutters from ground level; this removes the need for expensive scaffolding.
An industrial grade wet vacuum cleaner is attached to the poles which will easily lift moss, leaves and debris from the gutters.
A camera mounted on the top of the pole sends real time video to a monitor viewed by the operator. This allows our engineers to precision clean and process large amounts of guttering quickly, safely and efficiently.
The process is equally suitable for gutters with good access as it offers an option to remove the risks of 'working at height'.
When performing a good gutter and downspout cleaning, we will ensure to remove any branches, twigs, seed pods, leaves and other debris from the roof to prevent this from washing into your clean gutters the next time it rains. This will prevent further build ups and blockages and will ensure your gutters are working to their maximum effect.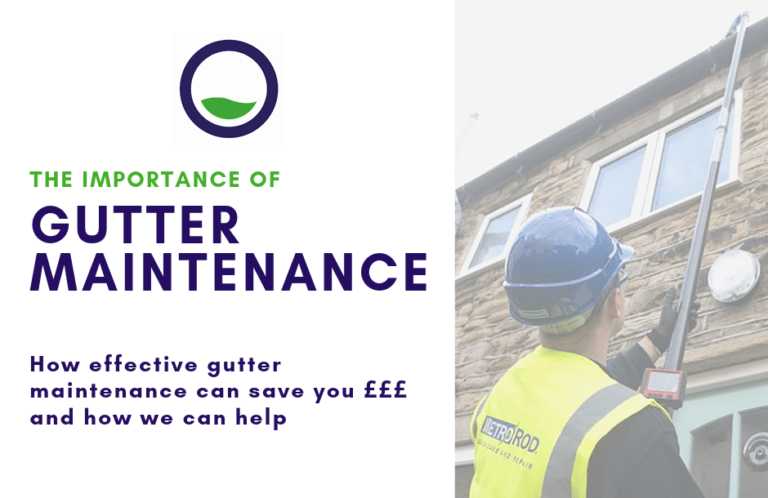 Why Use Metro Rod?
Metro Rod's reputation for delivering cost effect, high quality workmanship has lead us to become one of the leading names in drainage maintenance in the UK. Our high tech equipment eliminates the need for costly scaffolding and removes the risk of dangerous ladders, and our 'no mess' apparatus utilises both wet and dry vacuuming to remove debris without the untidiness. On board cameras ensure our highly skilled engineers can work to maximum efficiency and provide you with the most effective service possible.
Call Metro Rod now on 01472 859895 to see how we can help you with your gutter cleaning requirements.