On the 1st November 2018, Metro Rod Manchester and Macclesfield began their 25th year of providing expert drain care and repair solutions to the homes and businesses of Central and South Manchester, from the city centre, Salford and Trafford, all the way through to Stockport, Macclesfield and surrounding areas of Cheshire as far South as Northwich. None of this would have been possible without continued investment in staff and equipment over the years, and is now the reason Metro Rod Manchester and Macclesfield boast a multitude of specialist drainage equipment allowing for the "bigger" jobs as well as standard reactive unblocks. Backed by a national network of drainage and plumbing engineers, this is what separates us from our competitors, in particular; one-man-bands, and makes us the UK's leading drain care and repair provider.
There are many methods or pieces of equipment that can be used to relieve your drains and pipes of blockages, but we find these to be the most effective from a time and cost perspective.
Picote Cutter
This is a specialist piece of equipment for fast and efficient drain cleaning, including the removal of scale and calcium build-up, tree roots, concrete deposits, as well as failed liners and imperfections in pipes. The picote has a spiral machine head that is inserted into the affected drain, and when operated, spins at such a rate that it essentially cuts out the material affecting the drain.
Electro Mechanical Clean (EMC)
An EMC utilises a motorised tool to rotate a cable or spring which is stored on a drum within the tool. The cable is fed into the pipe that is blocked and uses the tool to rotate the cable within the pipe. This has the effect of breaking up any material which has accumulated in the pipe, which is largely removed by the pipe, allowing the remainder to be flushed away into the drainage system.
Lining Gun
Metro Rod Manchester and Macclesfield boast equipment capable of saving you money. Why excavate to repair a drain, when you can line in? By using no-dig technology, we are able to utilise specialist tools such as a drain lining gun that involves inserting a liner into a drain which is then impregnated with resin to create a thin, strong layer inside the existing drain.
CCTV Crawler Camera
CCTV drain inspection cameras are used for exactly what they say on the tin; inspecting drains. Whether it's a case of your property experiencing reoccurring, unexplained blockages, or you need to have a home buyers drainage survey taken out to ensure a decent structural integrity of your drains remain, CCTV drain surveys will give you the clarity you need.
Crawler cameras are again used for "bigger" jobs, such as large diameter pipes and sewers. Similar to that of an R/C car, and remotely controlled by one of our engineers, the crawler cameras allow for more specialised CCTV drain surveys on larger lines in a quicker more efficient manner.
Large Tanker Unit
Metro Rod Manchester and Macclesfield have invested in 2 industrial waste water tankers over the last 10 years, allowing us to tackle even the biggest of drainage jobs. Our 26 tonne large tanker allows for the completion of large scale works such as the emptying of industrial sized grease traps and septic tanks, the emptying and cleaning of petrol interceptors, the cleaning out of culverts, as well as the clearing of other large drainage systems. Our tanker also has a jetting unit on board allowing for the flushing out and cleaning of systems once all waste has been removed.
By investing in state of the art, specialist drainage equipment, Metro Rod Manchester and Macclesfield add value to every job, at no extra cost to you. If anything, it means a lower cost to you as the job is often completed more quickly.
Metro Rod Manchester and Macclesfield are the leading drainage company in the area, covering Central Manchester, Stockport, Macclesfield, and the surrounding areas of Cheshire. To find out more on our specific areas of Manchester and Stockport that we cover, you can visit our website here. Alternatively, to see the areas of Macclesfield we cover, click here. Additionally, to find out more information on our specialist services, along with the rest of our full range of drainage solutions, you can see our services page here.
For up-to-date information and news surrounding the world of Metro Rod Manchester and Macclesfield, you can follow our Twitter page here, and Like us on Facebook here.
For queries relating to any drainage issues, small or large, call Metro Rod Manchester and Macclesfield on 01625 879035, or email [email protected].
Lastly, if you have had Metro Rod Manchester and Macclesfield carry out work for you in the past and were happy with the service, we would love it if you would leave us a review on Google here!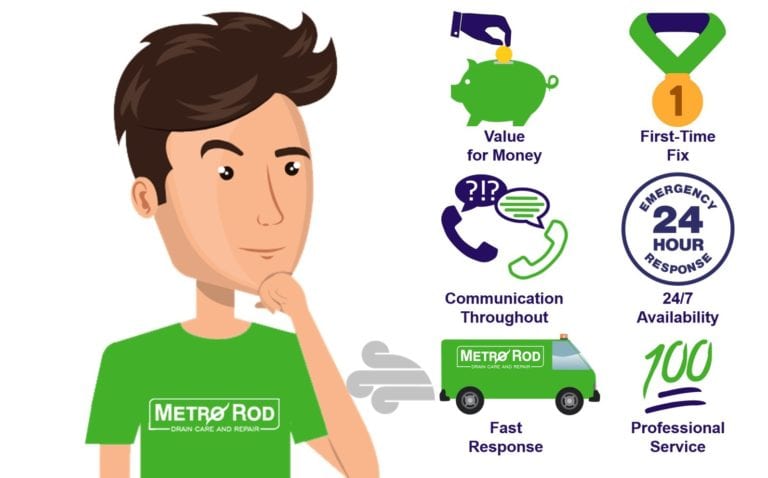 "We guarantee our clients a safe, professional and honest service day and night."