There was a buzz around the Metro Rod Bedford and Milton Keynes office yesterday, as once again dreaded fatbergs hit the national headlines.  We listened in to BBC Radio 2, as fatbergs were the key topic on Jeremy Vine's phone in. Our customers know that Metro Rod Bedford and Milton Keynes are their 'go to' place for information regarding what is and what's not acceptable to flush down toilets! You can listen to yesterday's Jeremy Vine show here…
Here at Metro Rod Bedford and Milton Keynes we are spreading the word about what you should and shouldn't put down the drain and toilet and what an impact this has on our environment. If you remember, last year we reported the Whitechapel Fatberg that became so famous that it was on display in a The British Museum – click here to read the story again –  https://www.bbc.co.uk/news/education-44615693
Today the BBC reported that the removal of a 210ft (64m) "monster" fatberg which is blocking a sewer in a seaside town has begun. In size – it is being compared to the Leaning Tower of Pisa!!
The congealed mass of fat, oil, wet wipes and other rubbish was discovered in the sewers of Sidmouth late last year. It is estimated it could take eight weeks to remove, the lengthy process being undertaken by skilled drainage engineers, such as ours at Metro Rod Bedford and Milton Keynes.  The process started yesterday when engineers entered the sewer and began to break the huge fatberg down, which needs to be done before the mass of fat and wet wipes can be sucked up to the surface and disposed of safely. The whole article can be read by clicking here.
They are using methods involving pick axes and high pressure water jetting (HPWJ) – an environmentally friendly process that we use every day here at Metro Rod Bedford and Milton Keynes.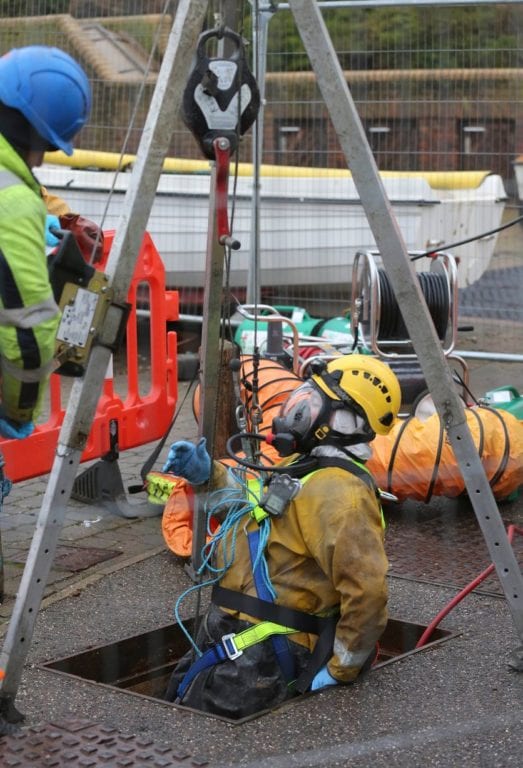 Wearing high-tech protective clothing and using extremely specialist equipment – here are the brave and skilled engineers entering the sewage system in Sidmouth yesterday.
For a closer look at the fatberg and film footage of  the beginning of what could be an eight week process, click here. 
Fatbergs and smaller blockages can be avoided by remembering what you can and can not put down your toilet. The ONLY things you should ever flush can be remembered using the 3Ps rule… Poo, Paper and Pee! For further information regarding what it is safe to flush – please do not hesitate to give us a call at Metro Rod Bedford and Milton Keynes on 01582 666543 for a friendly chat.
Everything else should be disposed of in the correct bin, recycling where possible. Fats and grease left over from a cooking, often find their way into the toilet or sink drain, this will solidify quickly, especially in cold weather and restrict the drainage flow or cause a total blockage. Remember – if it was once a solid – it will return to its solid state when it cools down!
We all know it can be inconvenient to find a suitable alternative to remove fat and grease, but simply throwing these items in the bin it is by far the best and cheapest way to avoid future problems.
Further information about the full list of services Metro Rod Bedford and Milton Keynes offer can be found here https://www.metrorod.co.uk/services/ .
If you require our services, Metro Rod Bedford and Milton Keynes can; unblock toilets and drains, empty septic tanks, unblock sinks, vac your gutters and even remove graffiti!
We also offer a whole host of drainage and emergency plumbing services, if you are unsure of the issue or how to resolve it, contact us here at Metro Rod Bedford and Milton Keynes in one of the following ways:
Give us a call 01582 666543 between 8am and 5pm
Or FREEPHONE 0800 66 88 00 anytime.
Email us: [email protected]
Visit our websites:
Metro Rod Bedford and Milton Keynes