Following the enormous success of Ely Hero Awards, local drainage experts, Metro Rod Cambridge is once again bringing back the event to the community for the 3rd year running with the support of other local businesses. This exciting community event celebrates the achievements of individuals in Ely and surrounding villages who make special and inspiring contributions to assist others.  So many of these people are real unsung heroes in the community, they perform acts of kindness and do good deeds without seeking praise. The City has a fantastic range of inspiring teachers who help our children reach for the stars. There are Community Champions and amazing Neighbours who willingly give time to others giving life and vibrancy to our villages. Working with a supportive Colleague creates an environment where others can flourish. A true Caring Companion makes an hour of need a far less scary place. Children play a huge part in supporting the community and we know there are some very determined children who show resilience and courage beyond their years. The event endeavours to celebrate all these individuals to say thank you for everything they do.
The event has grown year on year and the 2019 season is all set to be even more exciting. The official launch party took place on Monday 4th March at The Poets House Hotel .  The party was attended by our fabulous Media partners, The Ely Standard Newspaper  part of the Archant Group An exciting new media partner has come on board this year – BBC Radio Cambridgeshire. We have been delighted to have Drive Time Radio Presenter Chris Mann and his "Mann in the Morning" Show support us for the last 2 years. Last year Chris hosted our award ceremony and we are delighted that he will do once again this year!
A selection of last years winners gathered along with local dignitaries. We are delighted to have the invaluable support of the Lord Lieutenant of Cambridgeshire, Mrs Julie Spence. Colonel Elsden attended along with his wife. Mayor Mike Rouse and gave an inspiring opening speech he said "The Ely Hero Awards has a presence in the City throughout the year and the effect of it spreads throughout the community which is fantastic to see. This is a very strong city and this event makes Ely what it is and brings it all together. Everyday heroes are all around us so get nominating them".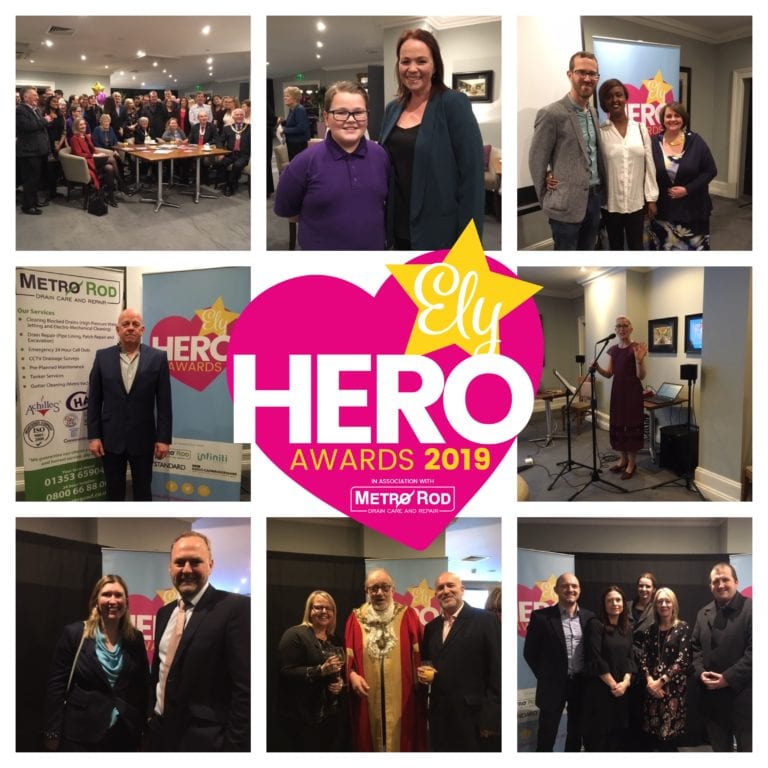 Nominations are sought over 10 different categories and Sponsored by the following Companies;
Best Teacher –Thorlabs
Most Amazing Professional –Grovemere Holdings Ltd
Community Champion – The Ely Gin Company
Neighbour of the Year – Elyi Magazine
Smiliest Server – The Ely Standard
Colleague of the Year –Xpert Resourcing
Caring Companion – Lovewell Blake
Child of Achievement – Crown Garage Honda
THE Ely Hero –Metro Rod Cambridge
Programme –Milton Executive Cars
Entertainment –Platinum Properties
Food – Habis
Wine –Red Shoes Accounting
Table Decorations Kings School Ely
After Dinner Coffee – Archer and Gaher Adventures
Prosecco – Seahorses Swim School
Details of category criteria and a nomination form can be found on the Ely Hero Awards Website
Beginning on Monday 4th March and for the next 8 weeks, everyone is encouraged to nominate a local hero, the deadline for submitting an entry will be Monday 29th April. Submit your entry via the website.
The hero awards are given at the discretion of the judging panel, so every single nomination stands a chance of winning on its own merits. 3 finalists are chosen from each category to attend the award ceremony in July with the winners being announced on the evening.
Keep up to date with what is happening during the process on www.facebook.com/elyheroes and www.twitter.com/elyheroes for more news. Don't let your hero go unnoticed – nominate them! We are very much looking forward to discovering Ely Heroes of 2019.
Metro Rod Cambridge is very honoured to make this event happen in the community and so proud of all the support given in the business community. We are very excited to see who has been nominated this year and to crown our Ely Heroes of 2019 at a glitzy award ceremony at The Maltings in July.
We can provide with all manner of drainage services including reactive and maintenance works on a 24/7/365 basis. We specialise in CCTV Surveys, Pipe and Drainage Rehabilitation, Gutter Clearance, toilet unblocking, drain cleaning, tankering services to name a few.
If you have a query about our services or would like to book an engineer, please phone on 01353 659047
Check our Facebook Page
Send us a Tweet
We look forward to hearing from you.