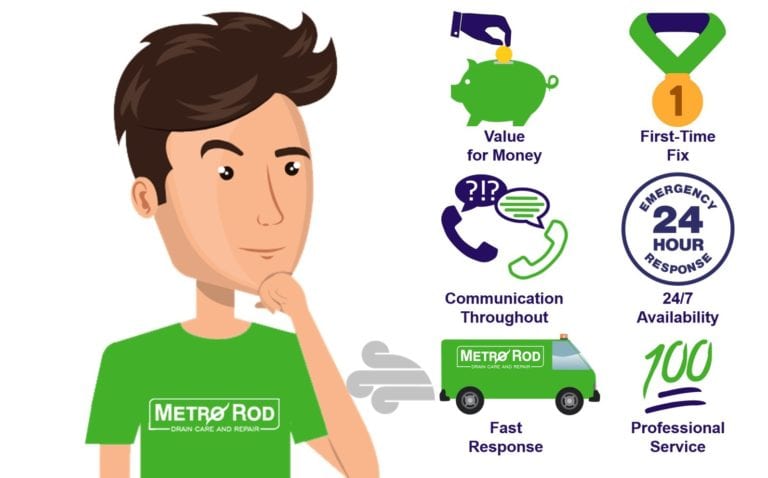 Drain care for commercial business and residents in Slough and Berkshire is our business and we aim to be the natural supplier of choice for drainage services in Slough, Reading, Maidenhead, Windsor, Newbury, Marlborough, Swindon and throughout the Thames Valley.
We recognise that Property Managers, Facilities Managers and Maintenance Managers have a choice as to who to call to deal with a blocked drain, blocked toilet or blocked sink or who to schedule to carry out a CCTV drain survey, pre-planned maintenance visit or drain repair. Much of our work is carried out for property professionals who are used to making procurement decisions from a range of possible suppliers so why should they, or you, choose Metro Rod Slough to resolve your drainage issue ?
The article on this link from the professional accreditation and validation body Achilles sets out their view of 5 qualities of a Perfect Supplier and these make interesting reading. At Metro Rod Slough we believe our fully qualified and compliant drainage engineers using the latest drain unblocking and drain repair technology together with sophisticated real-time online job-tracking and communication systems put us 100% in line with this. Metro Rod are fully Achilles accredited.
At Metro Rod Slough we  regularly ask our customers what they want form us as drain care suppliers and where we can place our focus to improve our service. We think we understand what is important to our customers and, as summarised in the image above, when you call Metro Rod to undertake any work on your drains in the Slough and Thames Valley area what you can expect from us as your chosen supplier is:
A professional service : First and foremost we will professionally and effectively solve your problem. Whether you have a single blocked drain or blocked sink or need a more complex service such as a drain CCTV survey or pre-planned drain maintenance programme you can rely upon the skill and experience of Metro Rod Slough team to diagnose the correct solution and implement this to SOLVE YOUR DRAINAGE PROBLEM effectively.
24/7 availability : Whatever time of day or night you contact us Metro Rod are available to help. Restoring toilet facilities in a pub at 10pm at night ?…yes, that will be Metro Rod Slough keeping another business open and trading.
Fast response : We understand that when you have a blocked rain you want it unblocking..and as quickly as possible. Our schedulers will despatch an engineer to you as quickly as possible with the overwhelming majority of jobs being attended by Metro Rod Slough within 4 hours of receipt and, for emergencies where flooding, customer vulnerability or business closure is involved, often well within this.
Communication throughout : We know you want to know what is going on at each stage of your job and to receive a clear explanation of the drainage problem and action taken to resolve it. All job actions, and supporting photographs, are logged by our drainage engineers on-site and Metro Rod Slough's office keeps communication at the levels YOU want as a customer.
A first-time fix : Wherever technically possible Metro Rod Slough's engineers will resolve your drainage issue there and then, without the need for repeat visits. This happens in over 80% of jobs and we take pride in delivering for our customers.
Value for Money : A fair and honest pricing policy based on an hourly rate with no "hidden extras" which we believe delivers value for money for our customers in Slough, Reading, Maidenhead, Windsor, Newbury, Marlborough, Swindon and throughout the Thames Valley. For pre-planned works such as CCTV drain survey or pre-planned drain maintenance we will happily visit your site for a free initial assessment so we can make the most appropriate recommendations to you.
Looking for a supplier of drain care services whom you can rely on ? Contact Metro Rod Slough today by :
Calling us on 0118 950 4477
Going to www.metrorod.co.uk/local/reading
Emailing us at [email protected]
Connecting with Andrew, our Managing Director on LinkedIn