Here at Metro Rod in Liverpool we continually strive to ensure that our engineers are THE BEST. We ensure that they go through a rigorous training plan to make sure that when it comes to solving any drain problems, unblocking any drains, clearing gutters or carrying out any CCTV surveys of new or existing drainage our engineers are not only equipped with the best equipment but also are knowledgable about their jobs.
We have Nigel, a dedicated training manager (who has more years experience of unblocking drains than he would care to admit!) who works alongside any of our new starters to ensure that they learn every single aspect of the job.  Nigel also acts as a mentor to new starters and existing employees so if they ever feel that they require any further training in any aspect of the job, be it with new equipment or in new methods of working, he can sort this for them.
Metro Rod Liverpool currently have 4 General Operatives on board working for us; Chris, Shea, Craig and Alex.  All of these operatives have been taken on not just to provide support to our existing engineers (although they do come in handy for this!) but we want to train them in the right way to enable them to have the skills and the attitudes to become the 'Drainage Champions Of The Future'!  We will not employ a General Operative who will stay at this position forever – we continually provide support and training so these young men will be progress to be wonderful Drainage Engineers one day.
We already have a success story though…
Josh Cafferty joined the Metro Rod team back in 2013 when we were a substantially smaller outlet than we are now.  He generally worked alongside his dad, Andy Cafferty, and learned the ins and outs of the drainage trade, from the best way of dealing with a blocked drain, how to change washers on taps, how to descale urinals, the importance of always wearing Personal Protective Equipment and all the other (lovely!) activities that are involved in being a drainage engineer.  Josh has always shown great interest in learning the job but could never drive (which is obviously important as a drainage engineer – you may have seen the old 'Fire Bikes of old (picture below), we don't use anything like this!).  Luckily for us though, earlier this year Josh passed his driving test!  Upon getting some training in the van and ensuring that he knows all of the features of it, Josh has now been promoted to a bona fide drainage engineer and is already proving himself as a great asset to the team.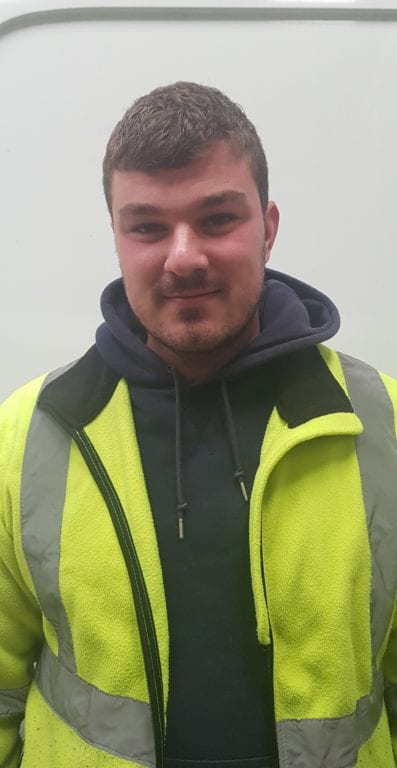 Josh Cafferty, a Metro Rod Liverpool success story.
When asked about his promotion, Josh said "I am obviously really happy to have received my promotion, I always knew that I could do the job and I am loving it.  It's strange not having someone with me to ask if I am unsure of anything but it has made me realise that I don't need to be asking anyone, I generally know all of the answers and I can always speak to Nigel, any other of the senior engineers or the technical team in the office, so I am not on my own at all."
As well as his promotion Josh has gone onto the on-call rota, meaning that he is one of the team that provide emergency cover for any drain problems that our customers may encounter over night and on weekends.  On his first night on call Josh received a call to relieve some flooding in a building in Liverpool.  As he has been taught, Josh got on with the job in hand and cleared the problem for the customer quickly, leading to the customer calling Josh his "hero"!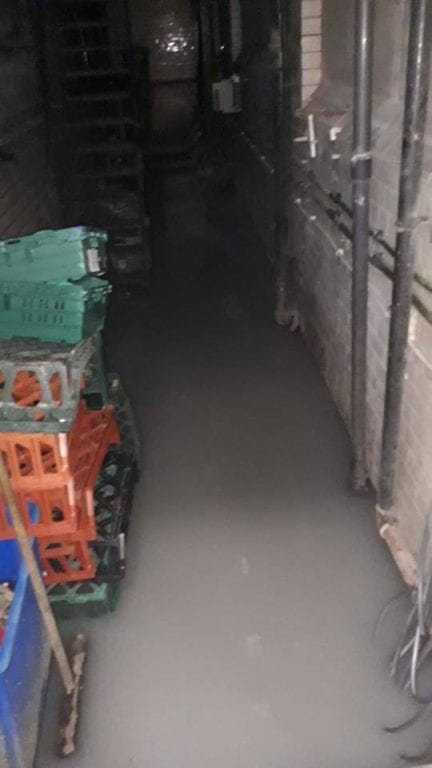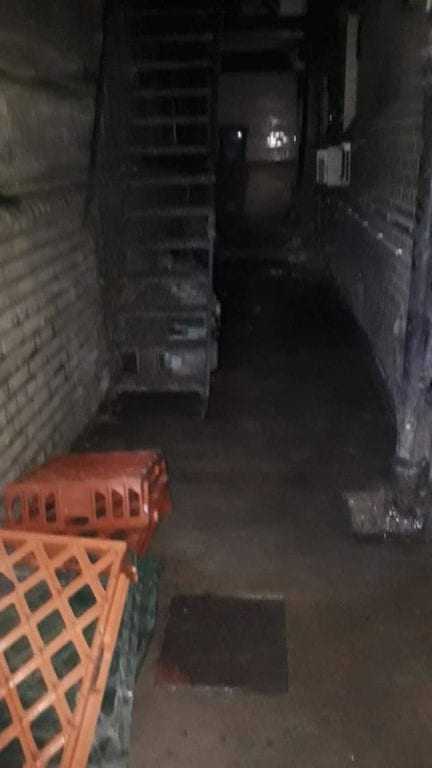 Josh's first night on call – before and after
We are proud of Josh and fully expect our other General Operatives will follow in his footsteps!
If you need to contact Metro Rod for any drain problems, blockages, blocked gullies, stinky sinks, slow draining baths, bad smells and so on you can call us on 0151 909 2807, go to our website, www.metrorod.co.uk/Liverpool or look on our social media Facebook or Twitter pages
(Just for anyone interested, this is a Fire Bike – our operatives don't use them or anything similar!)