Metro Rod North London's Alan Williamson Wins Engineer of The Year 2019 Award at Metro Rod Annual Conference
Metro Rod North London's very own Alan Williamson picked up the "Engineer of The Year", at Metro Rod's annual conference this year. The annual conference was held at the five-star Celtic Manor Resort based in Wales. With the day consisting of senior management laying out next years plans and this years results, the evening was all about recognising members of staff across the national network of franchises with an awards dinner.
With one of Metro Rod North London pride themselves on customer service and how their engineers treat and work with customers. Highly trained in all aspects of drainage, Metro Rod North London's engineers are build to deliver a first class service. Alan Williamson was the best of bunch this year, but take nothing away from the rest of our team; Harry Brewer,  John Butler, Ben Mears, Nathan Cullingford, Will Newnham and Stumpy Smith, they have all done us proud this year!
Owners Dan Malone and Stacy Andrews had the honour of receiving the award during the Metro Rod 2019 Awards Ceremony, led by Peter Molloy, Metro Rod's Managing Director and Stephen Hemsley, Executive Chairman of parent company Franchise Brands PLC. The main man himself got his hands on his award on Monday and from the picture below, couldn't be happier!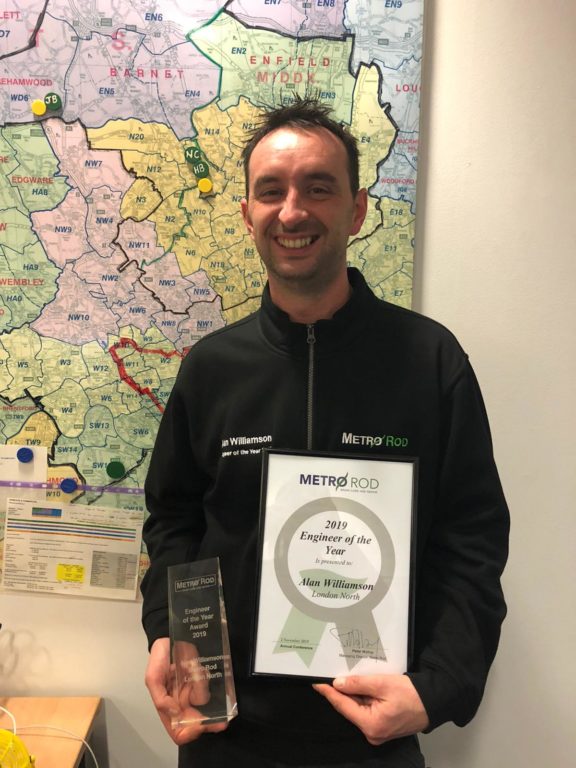 Dan Malone had the below to say:
"It is such a good feeling to see our engineers get acknowledged for their hard work. Late hours, loads of driving and dealing with frustrated customers is part of the day job for them, but I am so proud as to how they conduct themselves, the work they do and the customer service they provide. Well done Alan and the rest of the team, lets keep pushing the standards in 2020!"
Stacy Andrews had the below to say:
"It feels amazing getting our engineers recognised for their work. They go through intense training, learning new skills and perfecting current ones, as well as the work they do on a day to day, this award tells them (mainly Alan!), to keep doing what they are doing and the recognition will come. Thank you so much to my team for everything they do, every day! I hope Alan enjoys his bottle of champagne, it is well deserved!"
Metro Rod North London offer services across Tottenham, Highbury, Hamstead, Barnet, Enfield and surrounding areas. Dealing with blocked drains, drain repair, CCTV surveys and septic tank maintenance. We believe in simple things and make sure we follow them through; available 24/7, professional, value for money service during and after the job and peace of mind in the fact that all our engineers are highly trained, DBS checked and fully insured.
Make sure you get in touch with us through any of the following:
Enquire through our website: click here
Get in touch with us via email: [email protected]
Connect with us on LinkedIn: click here
Call us on 0808 208 2634
We any drainage needs, we are the drainage experts. We look forward to hearing from you soon!