Norfolk's very own Hickling Broad and Thurne Wind Pump were featured on BBC's Countryfile  on Sunday. Here at Metro Rod Norwich we also love the uniqueness of Norfolk, we even help with maintaining some of the unique properties across our region such as Horsey Wind Pump.
Metro Rod Norwich can assist with drainage with any property, from a castle to a caravan park, we can do it all and our engineers love a challenge. If you need a new soakaway, have a damp problem that you just cant resolve, have a historical building that needs a sympathetic solution, or if you need clarity in mapping the drains. Give us a ring and our team of experienced, knowledgeable, qualified and friendly engineers will be happy to help. We love a project, whether that's an extension to your home and you need to know where the drain run is, or a blocked toilet. We can also maintain commercial buildings and carry out pre planned maintenance (PPM) to reduce the need for emergency call outs. Metro Rod Norwich are available 24 hours a day 7 days a week for all your drainage requirements, just give us a ring on 0800 66 88 00.
Metro Rod Norwich covers the Norfolk and North Suffolk area, take a look at the map to see the area's that we cover. Did you know that Metro Rod has national network of coverage so if you have a need for our services we can help you anytime anywhere, our national call centre will best place the call with the local service centre.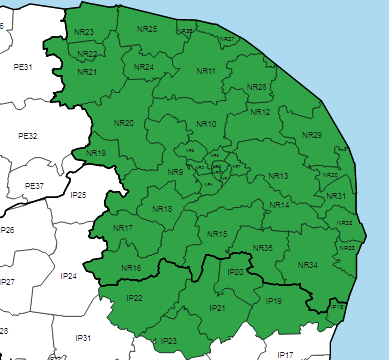 *Unblocking drains * CCTV Survey * PPM's * Gutter Clearing * Cracked Pipe Repair * Water Leak Repair * Septic Tank Emptying * Drain Care * Septic Tank Maintenance * Homebuyers Drainage Survey * Fat & Grease Management * Sewer Inspections * Pipe Lining * Excavation * Drain Mapping * New Drain Installations * Tanker Services * Emergency Plumbing * Bespoke Services *