World Toilet Day: 4.2 billion People In The World Without Safe Sanitation
World Toilet Day 2019 is drawing attention to those people being left behind without sanitation and the social, economic and environmental consequences of inaction.
Millions of sanitation workers in the developing world are forced to work in conditions that endanger their health and lives, and violate their dignity and human rights, according to a report released today.
Sanitation workers provide an essential public service that is key to safeguarding human health. They are often the most marginalized, poor and discriminated against members of society, carrying out their jobs with no equipment, protection or legal rights.
Here at Metro Rod Stoke we support World Toilet Day and people's right to have access to clean, healthy sanitation units. The main question that we hear people asking, what is world toilet day?
What is World Toilet Day?
World Toilet Day, celebrated on 19th November every year, is about inspiring action to tackle the global sanitation crisis and help achieve Sustainable Development Goal (SDG) 6, which promises sanitation for all by 2030.
Established by the World Toilet Organization in 2001, World Toilet Day was made an official UN day in 2013. UN-Water leads a taskforce of international agencies to campaign around a common theme.
A world toilet day message from Sadhguru:
""As it is important to have access to food and water, it is equally important for a human being to have access to a clean toilet to bring health, well-being and to establish human dignity."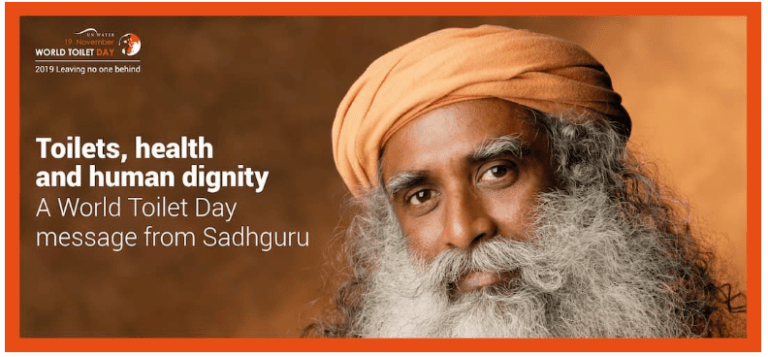 Click the link here, to listen to what Sadhguru has to say on World Toilet Day.
Key facts about World Toilet Day and the issues it is trying to deal with:
2 billion people live without safely managed sanitation – more than half the global population.
673 million people still practise open defecation worldwide.
Globally, at least 2 billion people use a drinking water source contaminated with faeces.
Inadequate sanitation is estimated to cause 432,000 diarrhoeal deaths every year and is a major factor in diseases such as intestinal worms and trachoma.
Children under the age of five living in countries affected by protracted conflict are, on average, nearly 20 times more likely to die from diarrhoeal diseases caused by a lack of safe water, sanitation and hygiene than by direct violence. (UNICEF 2019)
Check out the full fact sheet by clicking the link here.
Metro Rod Stoke offer services across Stoke-On-Trent, Stafford, Wolverhampton & Worcester, from dealing with blocked drains, drain repair, CCTV surveys and septic tank maintenance. We believe in simple things and make sure we follow them through; available 24/7, professional, value for money service during and after the job and peace of mind in the fact that all our engineers are highly trained, DBS checked and fully insured.
Make sure you get in touch with us through any of the following:
Enquire through our website: click here
Get in touch with us via email: [email protected]
Connect with us on LinkedIn: click here
Call us on 0808 208 2658
We any drainage needs, we are the drainage experts. We look forward to hearing from you soon!