Have you ever wondered what the most common things flushed down the toilet are?
Our Metro Rod engineers find many different kinds of things down the drains. However, they are always prepared and protected for any situation as you never know what you may find on a job. Below is a list of common things engineers have found down the drains which shouldn't be there.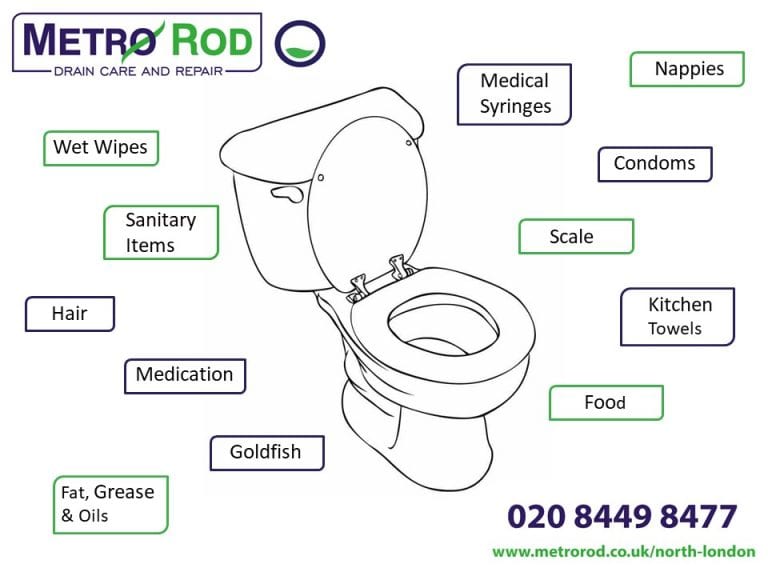 What NOT to put down your toilet:
Wet Wipes – This are one of the most common reasons toilets become blocked. Although some brands market their wipes as 'flushable', they are made to hold in moisture therefore can quickly build-up if used frequently.
Sanitary Items – Sanitary Pads and Tampons are another common finding flushed down the toilet. These products are made to be absorbent and should always be thrown away in the bin.
Food – You should not dispose of food down the toilet no matter what it is – the same goes for the kitchen sink.
Medication – Never flush down any type of medication as it becomes hard to filter out of our water system and can cause a health risk to others. You can return any unused medication to your local pharmacy for safe disposal.
Fat, Grease & Oils – These are mainly produced through cooking. To avoid creating a 'fatberg' inside your drains, dispose into a container and throw into the bin once hardened.
Medical Syringes – These should be disposed of safely in a sharps bin. You can also find out more information on how to dispose of used needles here.
Nappies – It's safe to say you shouldn't flush nappies down the toilet. Attempting to do so may cost you and your toilet major damage.
Condoms – Wrap them up and throw away them in the bin.
Kitchen Roll – Kitchen roll paper is also made to be absorbent, making it harder to disintegrate once wet.
Hair – A large amount of hair (including your pet's) can easily clump/tangle together making it hard for waste to pass through and may end up trapping in bad smells.
We receive many call outs as a result of misuse of the toilet system. It is important to remember what is and isn't allowed to be flushed down the toilet. Not only does this save you an inconvenience, its saves you losing out on any unplanned costs towards unblocking your toilet.