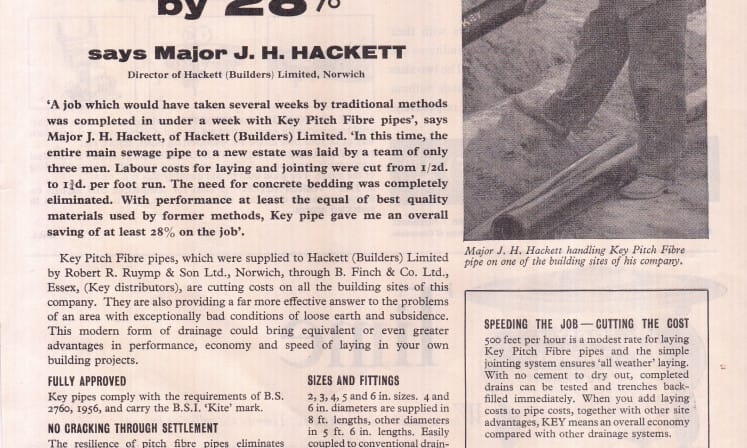 Pitch Fibre Pipes – Innovation of the 1950s!
Pitch Fibre pipes were introduced in 1958 and became common in the 1960s and 1970s. Engineering companies were promising cuts in costs and installation time which led to widespread adoption.
As we know now these pipes are no longer installed as they are more fragile than other pipe making materials and are easily deformed.
Movement of the ground, root ingress and overloading can put pitch fibre pipes under great strain and can lead to punctures. Even home improvements and gardening can lead to fractures and cracks.
Pitch fibre pipes are more prone to breakage than other types of pipes. These pipes have now reached the end of their design life and repair and replacement is often necessary.
Blistering within the pipe is common but can be rectified. The repair may involve using a chain-flail or a re-rounding of the pipe.
If your house does have pitch fibre pipes, it is well worth checking that they are still in good condition by carrying out a CCTV Camera Survey to identify any defects before these cause any serious problems.
If you would like us to carry out an  investigation and provide you with a detailed report,  including DVD footage and a recommendation letter, please contact us to book a visit.
Call us on 01189504477 or email us on [email protected], we are always happy to discuss and help.