Pancake Day is here again and hundreds of people will be busy buying eggs, flour and syrup today! All the Metro Rod staff have been discussing our favourite fillings and at the moment, traditional sugar and lemon is coming out top! When cooking pancakes, or indeed any other dish, remember not to pour any food or grease down your sinks, as this will eventually lead to blocked drains. If you do find yourself with a blocked drain, or think you may require a CCTV survey, call us on 01582 666543 or 0800 668800.
The BBC Good Food website has plenty of information here regarding the basic kit you need and how to make the perfect batter alongside advice on the best flipping technique!
If you're interested in world records – the Guinness Book of Records informs us that the largest pancake ever recorded (pictured below!) was made on 13 August 1994. The making of it was organised by The Co-operative Union Ltd based in Manchester, England, and the record breaking pancake measured in at 15.01 m (49ft 3 in) in diameter and 2.5 cm (1 in) deep at Rochdale, Greater Manchester.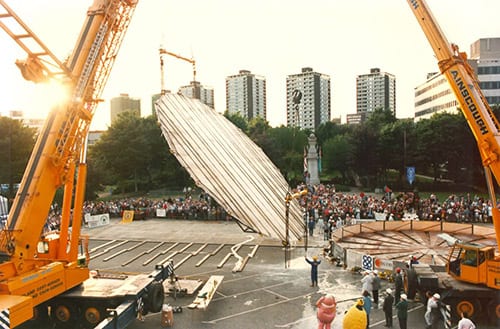 The following tips have been compiled from top chefs, to help you make (and flip) the perfect pancake this evening! 
Dominique Ansel, pastry chef and founder of Dominique Ansel Bakery London:
Be sure not to over mix the batter, as the gluten in the flour will start to develop and over mixing will result in tough pancakes.
Know when it's time to flip the pancakes – flip them once the edges start to dry and you notice small bubbles beginning to form on the surface of the pancake. And remember that the second side will take less time to cook.
Adding a splash of champagne to the batter gives them a really nice flavour and the bubbles make them extra fluffy too.
Patricia Trijbits, founder of specialist restaurant Where the Pancakes Are:
Tender loving care. It's about having great ingredients. In terms of the method you can't really go wrong, but if you want to achieve fluffy pancakes, whisk the egg whites separately.
Ella Mills, founder of Deliciously Ella:
Enjoy it, they're so fun to make. And be patient, the trick of flipping them is to ensure that one side is totally cooked and has firmed up before you try and move it.
Eric Lanlard, pastry chef and founder of Cake Boy:
When making your pancake batter, add the liquid part to your dry ingredients a little at a time to avoid a lumpy batter.
Be gentle when whisking your pancake batter to avoid rubbery pancakes.
Play around with types of flour. I love buckwheat for savoury pancakes, and of course you can make them gluten free as well.
Always leave the pancake batter to rest in the fridge for one hour. This will keep the batter bubble free and really light.
Make sure that you wait for your frying pan to be piping hot before adding pancake batter. You can test to see when the pan is ready by sprinkling in a few drops of water – if they sizzle it's ready.
If you're not brave enough to flip your pancakes, use a palette knife to turn it really easily.
Stack your cooked pancakes between sheets of baking paper, so that they don't stick to each other.
We hope you have a great Pancake Day with some fantastic results and remember, if you find yourself requiring our services, Metro Rod Milton Keynes, Bedford Luton and Watford can; unblock toilets and drains, empty septic tanks, carry out a CCTV survey, unblock sinks, vac your gutters and even remove graffiti!
We also offer a whole host of drainage and emergency plumbing services, if you are unsure of the issue or how to resolve it, contact us here at Metro Rod in one of the following ways:
Give us a call 01582 666543 between 8am and 5pm,
Or FREEPHONE 0800 66 88 00 anytime.
Or Email us: [email protected]
In the meantime, we hope you have a flippin' good Pancake Day!