Always keen to give something back to the local community, Daniel Bedson of Metro Rod Coventry and Leicester, recently took on work experience student Aimee Fox to help with her Level 3 Plumbing course at Rugby college, and it couldn't have gone better!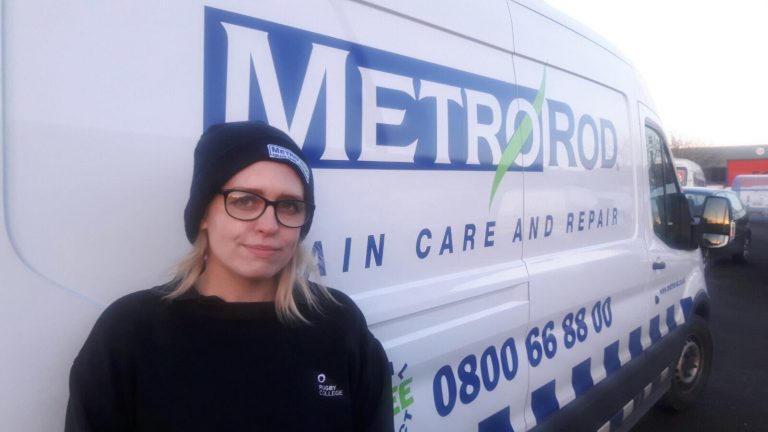 "Being the only female Level 3 Plumbing student at college, I felt somewhat nervous about entering a presumably all male environment, however there was no need for this as all employees and engineers were very welcoming and able to answer any questions I had about the job I was involved with," comments Aimee.
"I learnt how to carry out a drain inspection using the CCTV technology, how to repair foul waste pipes, how to install a Cistermiser and how the jets work."
Leanne Booth, Placement Coordinator for Warwickshire College also had many positive comments about Aimee's experience with the team at Metro Rod Coventry and Leicester: "Plumbing is very rare career choice for females, yet they tend to do very well and Aimee is certainly enjoying it! She's had a fantastic time and felt very welcomed by everyone. Aimee's found the work interesting and varied, and her mentor has guided her well – explaining everything so she was able to understand why they were doing certain tasks.
"It is employers like Metro Rod Coventry and Leicester who are willing to give WCG students an experience of the workplace that inspire, motivate and transform learning into a reality.
"I am very thankful to Daniel and his team for assisting in our work placement scheme and hope this will be the start of a partnership for many years to come!" enthuses Leanne.
Daniel was delighted to be able to help and would like to encourage others to take up the opportunity too. "It's been great having Aimee as part of the team, and if we can help play a small part in making her career choice a reality, then that's fantastic! I would encourage anyone who can to definitely take on work experience students! It is often hard to find your first job if you have no experience, and although it may have only been for a short period, it will all help Aimee when she comes to job hunting! And you never know – you might even find an employee of the future!"
Aimee concludes, "I thoroughly enjoyed being a part of the team for a few days and will hopefully be back in the future, Metro Rod is certainly a company I would like to work for once my studies have completed."