Metro Rod Manchester have been unblocking drains across the city for over 24 years now, providing emergency drainage and plumbing solutions to a host of clients across all industries. From domestic callouts for unblocking drains, to planned maintenance on office blocks on behalf of facilities management clients, Metro Rod Manchester have been unblocking drains for every Tom, Dick and Harry across our catchment area. One of engineers' favourite locations to visit in suburban Manchester is Sale.
Lying just over 5 miles southwest of the City Centre, Sale is one of, if not the most desirable town to live in within Greater Manchester. In a study commissioned by the Royal Mail back in 2017, Sale was actually named the 4th best town to live in England. Although it may have recently been overtaken by Altrincham (according to The Times newspaper), Sale is very much still one of Greater Manchester's most desirable areas to reside. It's also known for Britain's most lovable idiot, Karl Pilkington, who grew up there, and attended Ashton on Mersey Secondary School, which is now a part of The Dean Trust, who have an account with Metro Rod Manchester should they need us out to unblock their drains.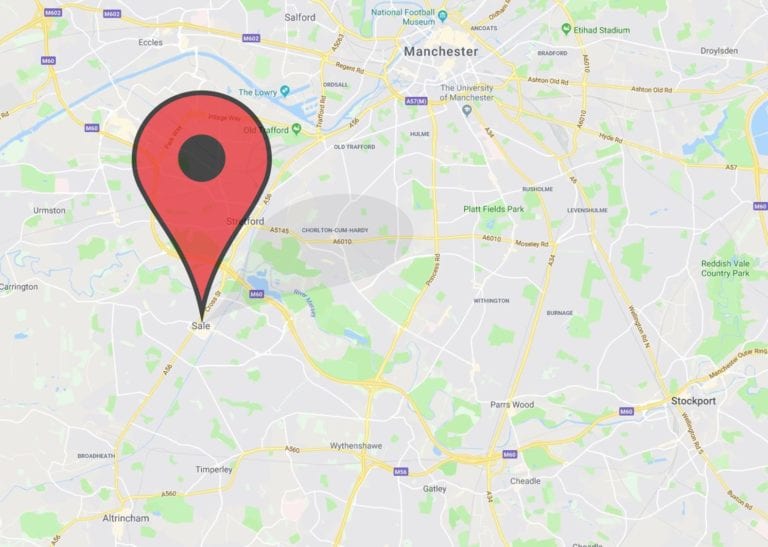 Over the last 3 months alone, Metro Rod Manchester have been out unblocking drains for a number of clients in Sale, including visits to domestic properties on behalf of Home Insurance clients, fixing broken toilets at retail sites, as well as unblocking drains and toilets at pubs, health centres and care homes. By operating a fast response and truly 24/7 service, Metro Rod Manchester are the number one drainage solution provider, unblocking drains for the homes and businesses of Sale.
Metro Rod Manchester's ties with Sale don't stop there though! For the last 6 months, we have been sponsoring Premiership Rugby Union side, Sale Sharks! Although their stadium is just up the road in Eccles, our advertisement board and full-page graphic in match day programmes lets the local rugby-goers know that if they encounter any issues and need their drains unblocking, we're on hand 24/7.
Metro Rod Manchester's Technical Manager, Christian Dickson, and Marketing Coordinator, Alex Clarke, last attended a game with John Clarke and Ben Battye, who are Directors of the Manchester-based architecture practice, Fletcher Rae, and were presented with a signed shirt made out to all at Metro Rod.
Metro Rod Manchester is the first choice service provider for unblocking drains, as well as the rest of the full range of drainage services for the homes and businesses across Sale, Manchester, Stockport, Macclesfield and the surrounding areas in Cheshire. For up to date information including local news and services surrounding Metro Rod Manchester, you can follow our Twitter page here, and like our Facebook page here.
To find out more information on the exact areas of Manchester that we cover, you can visit our website here, or similarly, for more information on the areas of Cheshire we cover, see our Metro Rod Macclesfield page here.
For help with unblocking drains and the rest of our full range of drainage solutions in and around Sale, as well as emergency plumbing and gutter clearance, call Metro Rod Manchester today for a free no obligation quote on 0800 66 88 00 or email [email protected].
Lastly, if Metro Rod Manchester have carried out works for you in the past and you were happy with the service, we would love it if you would leave us a review on Google here.

"We guarantee our clients a safe, professional and honest service day and night."