BIN IT DON'T FLUSH IT …….. When the right things go down the toilet, sinks and baths they begin a journey, travelling through our waste pipes until they reach their destination at your local sewerage treatment works, where the waste is separated from the water, going through correct channels of treatment, to then being returned to rivers and seas. Sounds easy right?
Well take a look at what we have found over the years at Metro Rod Coventry & Leicester: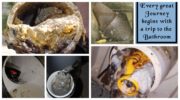 As you can see when the wrong items have been poured/flushed down our drains it can cause a lot of damage to our waste pipes as well as our waste water treatment network. Items such as a wet wipes, nappies, sanitary products, oils, fats & grease are the root cause of most blockages which can lead to major disruption to any household or business.
Below are some pictures of blockages we have attended to over the past few months.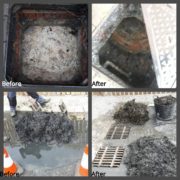 With this in mind, here is a guide of items that don't belong in our sewers:
Bin it don't flush it……
Wet Wipes:
Wipes are thicker than toilet roll, and are not biodegradable, meaning all wet wipes will not break down, causing blockages to our sewers.
Sanitary products:
All though it is easier to flush sanitary items down the toilet, these products can cause major blockages, the padding is an adsorbent meaning these items are not biodegradable.
Fats & Grease:
When poured down the drain the fat quickly goes cold, sticking to the inside of the sewer pipes, over time pouring fats & grease down the drain will cause fat bergs.
Nappies:
How nappies fit down the toilet when flushed amazes me, with this in mind if the nappy gets into the main sewer pipe it will cause a blockage further down the line, this is not a pretty site!
Prescription medicines:
Big no no, please dispose of medicines correctly as medication can make its way back into our drinking water.
Dental floss:
Yes dental floss…. When flushed the dental floss can get caught in the sewer pipe, wrapping itself around objects that may be in your drain, this could potentially cause a blockage.
If you are having drainage problems in your area Metro Rod Coventry & Leicester are here to help –
Our services include the following:
 Clearing blocked drains
Inspection & CCTV Surveys
Drain Repairs & Excavation
Pipe Lining & Renovation
Tanker Services
Pre-Planned preventative Maintenance
We understand the importance of great customer service and take care of all our customers from the moment you contact us to job completion. We provide communication throughout, to keep you up to date on any drainage issues you may have.
Why choose Metro Rod?
Unrivaled Response Time – there when you need us.
Professional service – during AND after the job.
Available 24/7 – 365 days per year!
We aim to be on site as fast as possible
Peace of mind.
Our engineers are trained to the highest standards, DBS checked & fully insured.
Here at Metro Rod Coventry & Leicester, we provide an extensive solution to businesses and homes – 24 hours a day, 7 days a week, all year round. Blocked drains are no problem for us, as our expert engineers have seen it all.
Areas we cover:
Metro Rod Coventry & Leicester cover the following areas: Alcester, Anstey, Ashby De La Zouch, Beaumont Leys, Bedworth, Braunstone, Coalville, Coventry, Hinckley, Leamington Spa, Leicester, Loughborough, Market Harborough, Meriden, Narborough, Nuneaton, Oakham, Rugby, Rutland, Southam, Stratford Upon Avon, Warwick.
We also provide the following services:
If you require our assistance, please don't hesitate to give your local  drainage company a call today….
Get In Touch With Us:
Visit: Metro Rod Coventry
Call us on: 02476 664610
Email: [email protected]
Leave Us Some Feedback
 At Metro Rod we appreciate feedback from our customers so that we can continue to improve our services. If you have recently had works carried out by Metro Rod Coventry & Leicester, please feel free to leave us a review on either of the following: