Guess who's back … back again … Tyler's back … tell a friend!!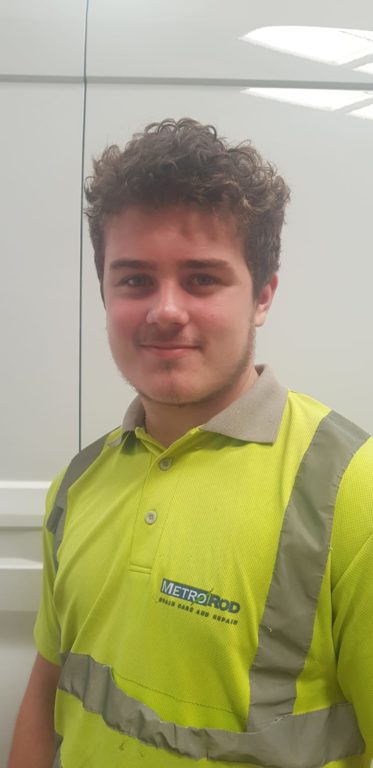 You may remember that a year ago we published an article outlining the family connections here at Metro Rod in Liverpool (how we had 2 Pardoes (now 3!), 2 Williams', 2 Schofields & 2 Caffertys, as well as various cousins and so on all employed here by Metro Rod Liverpool) and how we had another Cafferty, Tyler, who was carrying out work experience from school for a few weeks.
After his work experience ended we were constantly told how much Tyler had enjoyed his work experience at Metro Rod Liverpool, he had enjoyed learning about drains, drainage systems and the best ways of unblocking them (and making our customer's lives a little easier!).  We were asked several times to please consider Tyler for a full time employed position once he has left school.
Well, we weren't going to say no were we?!
Tyler really impressed us when he was carrying out his work experience and if his dad, Andy and his brother, Josh's work ethics and skills are anything to go off, we would be mad to turn Tyler down!  So, as of this week, we have 3 Cafferty's working for Metro Rod Liverpool – welcome Tyler!
Tyler is currently employed as a General Operative, meaning that he will assist on drainage jobs with senior members of staff, as well as being put through all relevant training.  This will ensure that he will one day be a great drainage engineer, hopefully still working for Metro Rod.
Tyler said "Thank you to Metro Rod for giving me a chance – I really enjoyed my work experience here and to get a job with this company is just really exciting."  Andy, Tyler's dad (and Metro Rod Senior Engineer) added I am really proud of Tyler, seeing me and Josh (his brother) working for Metro Rod and enjoying our jobs has really been a motivation to Tyler and I am so glad that he can join the Metro Rod team.  I know that by him doing this he will get the best training in the drainage industry and hopefully a job for life!"
Tyler is already proving an asset…
On his first day we received a testimonial from a school in which we were carrying out a drainage PPM on, stating that "Tyler and Andy were a credit to Metro Rod" and that due to them he would recommend Metro Rod every time.  Fantastic news!
Metro Rod offer drainage services across the wider Liverpool, Warrington, Runcorn, Widnes, Skelmersdale, St Helens and Southport areas.  If you need drainage assistance, 24/7 please don't hesitate to get in touch.
You can contact us by:
Calling on 0151 909 2807
Visiting the Website
Checking out Facebook or Twitter
Connecting with Jenny, our Business Development Manager on LinkedIn.
You never know, Andy and Tyler could be paying you a visit to unblock your drains soon!