We do come across some funny things found in drains in Norfolk, however I am baffled as to why anybody would waste Yorkshire Puddings and not gobble them up! Maybe they didn't rise or had soggy bottoms! But it seems to be a recurring thing down in deepest Suffolk as Anglian Water have attended to so many drains blocked with Yorkshire Pudding in the Ipswich area, that they have taken to the press and it's hit the headlines. You can read the full article here https://news.sky.com/story/drains-blocked-after-yorkshire-puddings-flushed-down-toilet-in-ipswich-11646787
There are seasonal trends as to what causes blockages in pipes. Around Christmas there are more cases of fat and grease blockages. Picture the scene, it's Christmas Day and you are cooking a Turkey for ten members of your nearest and dearest family members, it's all a bit of a squeeze and you've roped in the garden chairs to accommodate everybody for dinner. Poor cousin Keith is seated on the laundry basket as he is every year…Mum and Dad are busy in the kitchen and quickly running out of space, whilst the sprouts need just a little bit longer (as two hours isn't enough). There is food everywhere, so, the big question…Would you be tempted to drain the Turkey fat down the sink? We all know that the easy option isn't always the best option, and I doubt people would realise how damaging this can be. During the colder months, fat will solidify quicker in the pipes setting hard and restricting (or completely blocking) flow. Then, other debris that get's in the pipes will stick to the fat, causing a bigger and bigger blockage. This time of the year we also see Pancake Mixture troubling the drains and during the summer, cream and ice-cream are common culprits.
You may experience nasty smells, slow drainage, or your facilities backing up. It is at this point that you may remember pouring the Turkey fat into the sink on Christmas Day. Now our fantastic,  engineers at Metro Rod Norwich, are experts, and will get straight down to work and tackle the root cause of the blockage. Our Van packs carry state of the art high pressure water jetting equipment (HPWJ) which is the environmentally friendly way of clearing blockages and restoring flow. We do not use harmful chemicals in this process but please do let us know if you have tried to clear a blockage by using chemicals. A blockage can occur anywhere along the line, you may have a blocked outside drain, smelly drain, blocked sink and require a drain repair.
All you have to do is give us a ring on 0800 66 88 00 (24 hours a day) we will take the details of the property and arrange an appointment for an engineer to visit. We will keep you updated throughout the process, and let you know if any further works are required.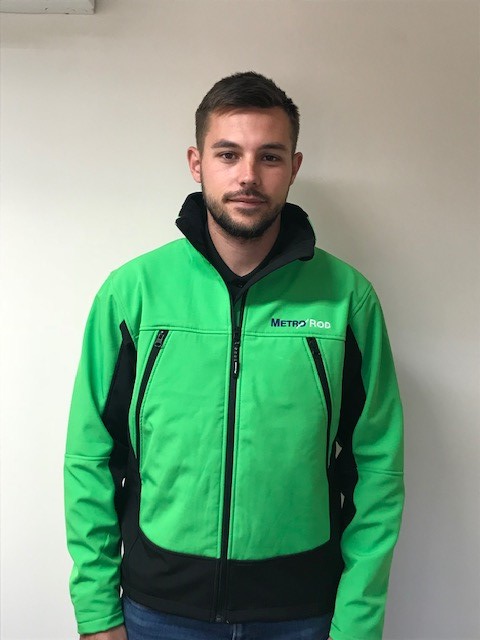 Picture of Shane, one of the engineers at Metro Rod Norwich
We work for both domestic and commercial properties, whether it is your home or place or work. If your place of work could benefit from preventative works such as pre-planned maintenance, we can arrange a free of charge site assessment to ascertain the business needs and frequency of the works, we can even advise on fat and grease management systems and carry out works outside your standard business hours to avoid disruption to your visitors and staff.
If you have and drainage or plumbing needs in the Norfolk area, give Metro Rod Norwich a call, we can assist with all drainage and plumbing requirements:-
*Unblocking drains * CCTV Survey * PPM's * Gutter Clearing * Cracked Pipe Repair * Water Leak Repair * Septic Tank Emptying * Drain Care * Septic Tank Maintenance * Homebuyers Drainage Survey * Fat & Grease Management * Sewer Inspections * Pipe Lining * Excavation * Drain Mapping * New Drain Installations * Tanker Services * Emergency Plumbing * Bespoke Services *