We are fully committed to servicing all customers in the current circumstances. Our engineers are working hard 24/7 to support all domestic and commercial customers.
We have had a very busy start to 2020 with our full range of drainage equipment and technology being used. We have encountered some big, small and weird Blockages. One that got us a bit baffled was at a Bank in Oswestry, Shropshire who had been complaining of there toilets backing up, We attended and rod and plunged the toilets which did not work so we followed the line externally and worked our way back through a couple of charged Manholes to find a clear Manhole, In the mouth of the Blocked Drain was a bung. This Bung was Blocking the whole line. Someone had placed there and not removed it but no one knows who or why. We managed to undo the bung and a massive gush released 30 metre line full of sewerage.
In the picture you can see the bung as it was found within the Blocked line.
Here You can see the Bung once removed.
A More Common Blockage
Roots are a big issue, Its the last thing a lot of people think about with blockages but are very common Blockage. They find there way through any little gap and explode through reaching down the drainage and eventually causing major Blockages. We have numerous way of clearing roots from a Drainage system with our root cutter and Picote Pipe cleaner Proving the most popular with our customers.
This Root had completely filled the Drain and Caused a heavy flood.
The Human Factor
We have the odd call out to Blockages where we find that someone has placed something in the Drainage system. Which has caused major issues upstream at nearby and connecting properties. Bricks seem to end up finding there way in to a system and obviously water can go round but solids seem to attach themselves and begin to create a Blockage.
Someone had placed these bricks in the chamber Which then Blocked up and flooded a near by property. As you can see from the picture the bricks are nearly the same size as the chamber so one would easily create a Blockage let alone 2 with some extra bits along side.
F.O.G.
Fat, Oil and Grease are another frequent call out for our engineers, we attend All kind of jobs from Grease trap maintenance on a PPM schedule or a Blocked kitchen gully that has built up over time. F.O.G. is very stubborn and difficult to unblock but our high water pressure jetting systems the each of our van-packs has cuts right through it and get flow restored in no time.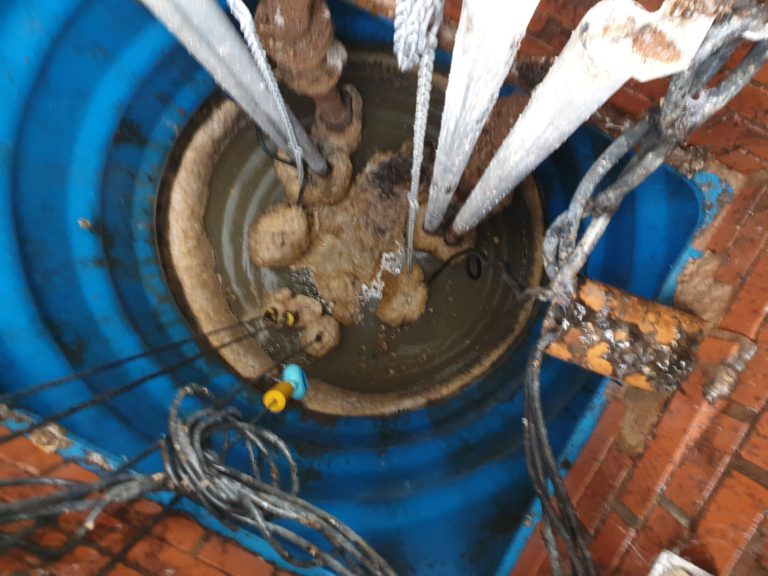 This Pumping station has seized working due to numerous issues all coming from F.O.G. The pumps had stopped working due to the floats becoming to heavy as they were covered in Fat. The pump became covered and as you can see the fat built up in and around the tank. We had a team of engineers in our Vactor Tanker and van pack. Firstly we pressure washed the tank with a Specialist Lance whilst the Tanker removed all the waste from site.
If you feel any of the above has been affecting your property or business don't hesitate in giving us a call on 01938554050 or e-mail us on [email protected] we are always available and happy to have a chat with out 24/7 service.