Whether you need a drain unblocking, have foul water rising up the drains or your gutters need cleaning you can rely on Metro Rod to fix the problem and keep your water flowing. We're available 24 hours a day, 7 days a week, 365 days a year.
Drain Services for Your Home
Day to day life can easily cause blocked drains. Food waste down the sink, wet wipes flushed down the toilet, hair in the plughole, autumn leaves falling in the drains. All these little things can soon build-up leaving you with trickling water, smelly drains or bigger problems. No matter the cause of the problem, Metro Rod is here to help.
Our nationwide network of drainage engineers can provide you with quick, reliable solutions from local professionals. Our drainage services include:
Our sister company, Metro Plumb, can also help you with any plumbing issue inside your home.
Not sure what's caused the problem? Or if it's plumbing or drainage? Don't worry. Give us a call and we'll sort the rest.
Why Choose Metro Rod?
Whether you're a homeowner or tenant, we understand a drainage problem can cause havoc to family life. We aim to get you back to normal as soon as possible and make it our job to not only fix the issue but minimise your stress and any disruption.
At Metro Rod, we have over 30 years' experience and have built up an outstanding reputation for high standards of customer service as well as the quality of our work. We operate 24 hours a day, 7 days a week from 43 depots across the UK and have over 400 qualified and highly trained engineers who are fully DBS checked. When working for you, we'll tell you we will be there, the details of the job in layman's term and always offer a fair, competitive price. All of our work is guaranteed.
Who Is Responsible for Fixing the Drains?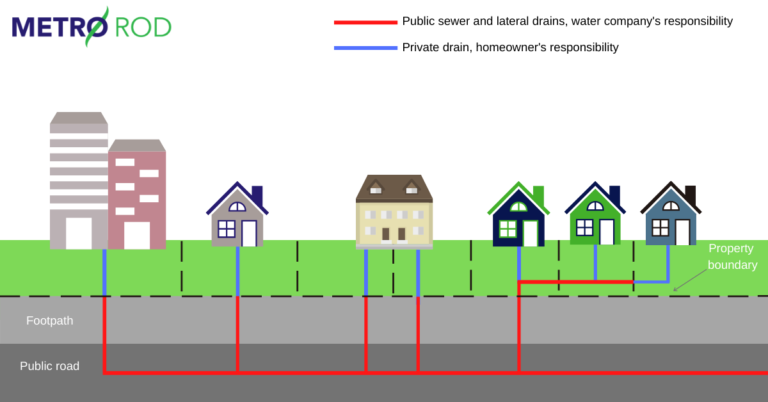 Private drains are the drains that are connected directly to your house and are your responsibility to maintain. Drains that are shared with several other properties before they join a public sewer are the water company's responsibility to fix if a problem occurs. For more information, view our drain responsibility guide.
Contact Metro Rod
For a free home visit and no-obligation quote contact your local Metro Rod using our find your local drainage depot search. Or you can call our emergency helpline on 0800 66 88 00.
Complete the form to request a quote or arrange a free site visit.