We are fully committed to servicing all customers in the current circumstances. Our engineers are working hard 24/7 to support all domestic and commercial customers.
When Metro Rod were working on a drain in Warrington recently we noticed something odd happen!
Our operative, Andy, told us the story:
"We were working in Warrington town centre and there was a guy walking along the street, a seagull suddenly swooped down over him, it went really close to him and he panicked a little bit (as you would!) he ducked out the way quite quickly and in all of the commotion he managed to knock his wireless earphone out of his ear!"
"Understandably he was quite upset – these things aren't cheap. Imagine his horror when the earphone fell into the gully (grid) that he was walking over as it fell out!?"
It's a good job that Metro Rod were working on an adjacent building.  Andy continues "The man immediately dropped to his knees and tried to put his hand down the gully to retrieve the headphone, but as trained drain operators we know of the dangers of putting our bare hands down street gullies (this was outlined on our social media here a few months ago) so we couldn't put the poor guy in any danger, we just knew that we had to help him.  We lifted the cover and used our gully grabs to take the headphone out of the drain for him, it was dirty and covered in debris but the man was so happy. I just hope that it still works!  We were delighted to help the guy out, nothing better than making someone's day like that!"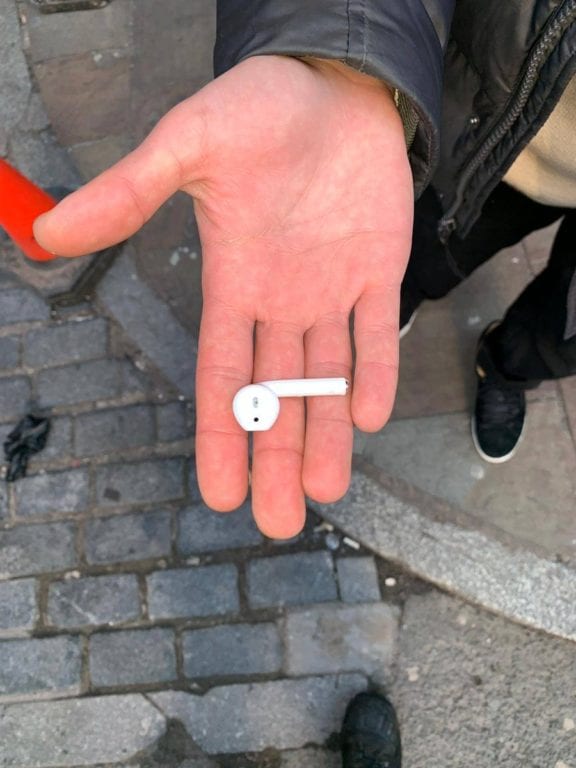 Reportedly, the man in question told Andy "I have never liked seagulls!"
All joking apart though, please leave retrieval of objects from gullies to professionals, such as Metro Rod!
We have the correct equipment and PPE to ensure that we can retrieve anything safely, it's not worth putting yourself into any danger.
Metro Rod work all across Warrington, Liverpool, Widnes, Runcorn, Southport, Skelmersdale and St Helens providing drainage services, such as;
• Drain unblocking, including sinks, urinals, toilets
• Grease Trap emptying
• Graffiti removal
• Gutter/Downpipe cleaning
• Root Cutting
• Aco Drain clearance
• Interceptor Emptying
• Drains excavations and repairs
• CCTV Surveys of drainage
• Emergency Plumbing
• Pre-Planned Maintenance
Tanker Works
Metro Rod work 24 hours a day, 7 days a week, whenever suits our customers!  We can be contacted on 0151 909 2807 or by email on [email protected] or you can visit our Facebook or Twitter Pages for local news or to find out what we're doing.
We look forward to hearing from you soon!