Drain blockages and other problems with drainage systems in Slough and Berkshire often have their root cause underground which one would think could make understanding the exact nature of the problem difficult for Metro Rod Slough's drainage engineers.
However by the use of CCTV survey technology our Slough engineers can effectively see inside your underground drain pipework and identify the cause of your problem, whether this in the form of some obstruction having found it's way into the drain or some kind of structural damage (or even collapse) of the drain pipe itself.
How do Metro Rod Slough survey your drains ?
The system we would normally use for drain pipework up to around 6 inches in diameter would consist of; a cable reel with a camera head attached and an above-ground computer box and monitor. The camera at the end of the reel incorporates an illuminating light and is fed down the pipe. Our drainage engineer viewing and recording the resultant "live" footage on the computer monitor above ground next to the manhole used for accessing the drain.
For drain pipes of a larger diameter, we are likely to deploy a crawler camera unit such as the one pictured above. This equipment consists of a camera mounted on a small "tractor" which can be controlled from a joy stick operated by the drainage engineer above ground. Again, the resultant footage is viewed and recorded using the computer monitor.
Below is a typical "still" image from a CCTV drain survey undertaken in Berkshire  showing cracks in the pipe which Metro Rod Slough can repair using low-cost "no-dig" local structural repair technology..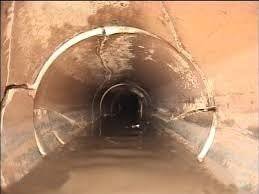 When is CCTV survey carried out by Metro Rod Slough ?
A CCTV drain survey is recommended to help diagnose the underlying problem whenever there are persistent issues with blocked drains. There are also specific circumstances where CCTV survey is particularly required:
New Build – The construction sector is active in the vibrant Slough and Thames Valley economy and Metro Rod serve many construction companies by providing CCTV drain survey when a new development is under way. Typically a site manager will ask us to complete a drainage survey completed both before and after the building work with the latter ensuring the drainage system is free-flowing and clear at the point the development is "hated over" to the ultimate owners.
Home Extensions – These have been common in Slough, Berkshire   and the Thames Valley in recent years and a survey  to check the condition of underground drains before and after the building work has taken place means that any problems, such as the drains being cracked or dislodged from ground movement, can be identified and corrected before they have adverse consequences.
Home Buyer surveys – Increasingly homebuyers are taking the prudent step of arranging CCTV drain survey before going ahead with their purchase. For a relatively modest expense Homebuyers in Slough and the Thames Valley then have peace of mind about the likelihood that they may be inheriting any drainage problems . In the example image below we see the CCTV camera identifying and recording tree roots entering the pipes and, in this instance, Metro Rod Slough can remove these and repair the cracks to the pipe ensuring no further root ingress.

Why choose Metro Rod Slough for your CCTV drain survey ?
You can rely on Metro Rod Slough for a safe, professional and honest service day or night. Whether you are in Slough or any other town in the Thames Valley/M4 corridor…..from Swindon and Marlborough in the West to Reading, Maidenhead, Windsor, Bracknell and Ascot in the East our expert drainage engineers will expertly survey your drainage system in quick time.
Metro Rod Slough operate the latest cloud-based CCTV technology provided via our partnership with iTouch systems, meaning that footage and reports can be provided rapidly by web-link  as opposed to the former system of transporting CDs and paper documents by post.
If you would like to get some more information regarding the I-Touch systems, click HERE to take you to their website.                      

For CCTV survey and any other drainage work don't hesitate to contact us at Metro Rod Slough . Call us on 0118 950 4477 or :
Go to www.metrorod.co.uk/local/reading
Email us at [email protected]
Connect with Andrew, our Managing Director on LinkedIn