We are fully committed to servicing all customers in the current circumstances. Our engineers are working hard 24/7 to support all domestic and commercial customers.
The Metro Rod Hull, Lincolnshire and Peterborough (HLP) team were called in to replace the pump chamber pumps, which had failed in a major prison. The prison pumps had failed, and were down to earth electrically along with the debris Mulchers. Once the new pumps and Mulchers had been installed, the chamber would require a man entry with confined space equipment by a Metro Rod engineer.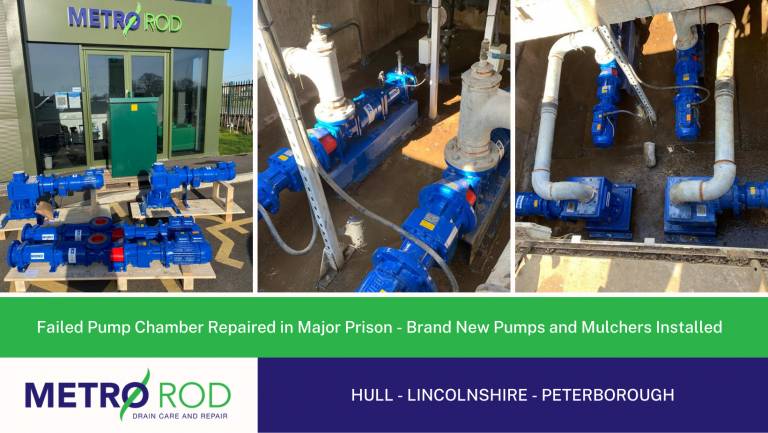 New pumps were ordered and the installed, and the Mulchers were fitted at the same time, and once this was achieved using a Combination Vacuum Tanker the chamber was cleared of all debris, and a high pressure water jet clean was done, providing the new pumps the best possible start with a totally clean chamber. All works to the pumps and chamber was carried out by the Metro Rod team and the whole process took 3 days to complete and the system was left fully operational.
Do you need help with your Pumps ?
We are pump experts and through our sister company, Willow Pumps, we can also provide pump station design and commission services to private or adoptable standards. We can provide comprehensive pump service from design to installation, and we can then continue to maintain and repair your pumps on site as part of a pump maintenance plan.
Our experts pump services include:
Pump station maintenance and routine servicing
Pump station repairs
Installation of pump stations – including installation to SFA (Sewers for Adoption) and SSG (Sewerage Sector Guidance) standards were required
Installation of package pump stations
Pump station cleaning
Clearing blockages
Contact us for a free site assessment:
Call us on:  01522-246933 or 01733-211832 or 01482-810013
Email: [email protected]