We are fully committed to servicing all customers in the current circumstances. Our engineers are working hard 24/7 to support all domestic and commercial customers.
American Company Uses Turbines in Gravity-Fed Pipelines
A company operating in Oregon, USA called Lucid Energy are installing turbines into the main trunk waterlines that feed the city of Portland. The drinking water originates in near-by mountains and flows downhill towards treatment plants near the city.
These pipe lines simply use gravity to move the water from the mountains to the city. One disadvantage of using Gravity-Fed systems is that the pressure lower down in the system can build up to dangerous levels. Historically the city has used a system of pressure valves to alleviate the pressure nearer sea level.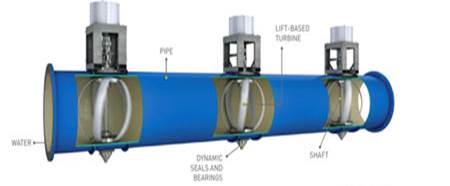 However the Innovative system from Lucid Energy acts as a resistor on the water system not only reducing the water pressure but also producing green energy.
The turbines are installed into large pipes and as the water moves through them they spin generating electricity. This Sustainable Urban Development (SUD) system is an Eco-Friendly green source of energy that produces electricity 24 hours a day and can potentially fit subtly into the current UK water system.