We are fully committed to servicing all customers in the current circumstances. Our engineers are working hard 24/7 to support all domestic and commercial customers.
Drains are always forgotten about until a blockage happens and starts to create issues. Metro Rod Birmingham offer various services that help to prevent blocked drains, we also offer services that will help you in a blocked drain occurs:
Pre-planned maintenance: This is a service which will definitely help to prevent a blocked drain. A member of the Metro Rod Birmingham team will attend to site as regular as desired to carry out maintenance works on your drains.
CCTV Surveys: Having a surveys done on your drains will help you to understand the condition of your drains and whether there is a potential blockage. We use a modern system called ITouch, which allows us to send you the survey within 24 hours via email along with a full detailed report of your drains.
Grease trap fitting: We are able to fit internal grease traps to drains which will help drains to keep drains unblocked by trapping fats, oil and grease from attaching to the pipe walls. We will also be able to maintain these traps by regularly cleaning them. This is especially recommended to hotels who deal with a lot of foods.
Emergency call outs: Metro Rod Birmingham offer a 24/7 service throughout the year. We do not add any additional call out charge for attending and guarantee an engineer to be with you the same day. All of our engineers are DBS checked and have a range of equipment to enable them to be able to solve any drainage issue you may be having.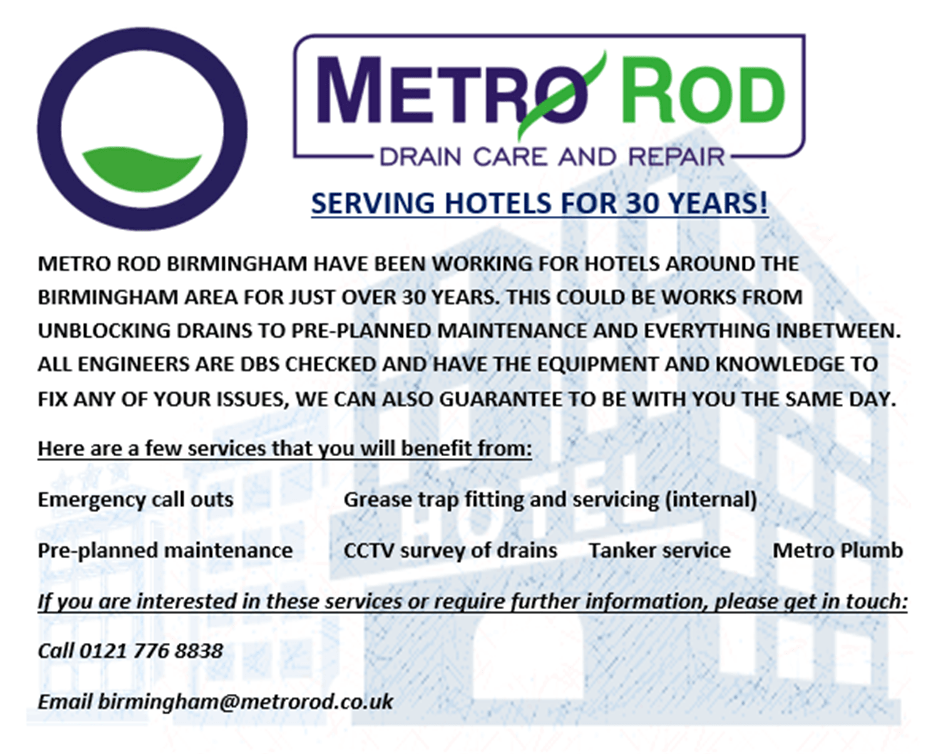 How to identify a blocked drain:
• Slow draining water in sinks and toilets
• Foul smell coming from drains, this could be a build up of food, toilet paper, wet wipes or fatty grease
• Over flowing drain or manhole
Causes of a blocked drain:
• Fat, oil and grease build up
• Flushing to much toilet paper down the toilet
• Drain age
• Tree roots growing into drains that can cause cracks and splits in drains
• Uric scale – made up of uric salt crystals that is found in urine, over a long period of time, this can coat the pipe walls and dry up, this can then restrict the flow of water and cause a blocked drain
For more information on any of our services, please get in touch!
Call 0121 776 8838
Email [email protected]
Connect with us on Linked In CLICK HERE
Like us on Facebook CLICK HERE
Follow us on Twitter CLICK HERE