We are fully committed to servicing all customers in the current circumstances. Our engineers are working hard 24/7 to support all domestic and commercial customers.
A day in the life of a drainage engineer – Marks problems with plastic
There's never a dull moment in the life of a drainage engineer and every day proves to be an opportunity to solve a problem. We never know where our engineers will end up and what they're going to find when they get to a job – much as Mark found out this week when he found himself stumped by some fridges!
This week Mark was called out to a large supermarket that has been having trouble with their fridges not working – with puddles of water forming all over the shop floor and food thawing out, this was definitely one of those circumstances when quick thinking was necessary.
Usually in this situation, the gulleys where the water runs to can often become blocked which can lead to the flooding, but in this case the problems seemed to stretch farther than the norm. As with many public places, the manholes close by where we could have taken a peek were unavailable as they were in areas where there were customers and so a bit more investigation was needed!
One of the best ways to solve these types of problems is to trace the drainage lines down to a point where we can take a look, and in this case Mark finally managed to follow the pipes down to the back area of the shop where he finally discovered the problem…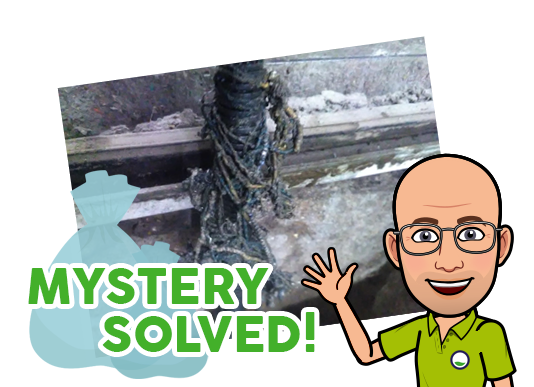 Elasticated plastic (like cling film) is very commonly used in food production – especially supermarkets and as convenient as this is for keeping our food fresh and tasty, sadly it can cause serious problems when it enters the drainage system.
In this case, the plastic had become wrapped in knots and had formed a blockage in the pipe, stopping and water from flowing through – hence the puddles in the shop! Fortunately, in this instance, Mark was able to utilise a high pressure water jetter and other equipment to pull the plastic free and allow the drains to once again flow.
As plastic can't be broken down like biological matter, when it is disposed of down the drainage system it settles and gradually builds up until there is no other option than to remove it.
Plastic is slowly becoming one of the biggest problems globally for the environment, and it's an issue that can be entirely controlled. By being meaningful of what we put down our drains and making alternative choices, we can significantly reduce the amount of plastic entering our drainage systems consequently reducing the amount of waste entering the environment. It also means we can avoid problems like repeat blockages which we all know are a pain and often come at the worst possible times!
---
For more information on plastic in drainage, check out our Facebook page for more articles on reducing plastic waste and drain care.