We are fully committed to servicing all customers in the current circumstances. Our engineers are working hard 24/7 to support all domestic and commercial customers.
Metro Rod Aberdeen are experts when it comes to unblocking drains, so if you are faced with rising toilet water or it just wont flush then we are the ones to call.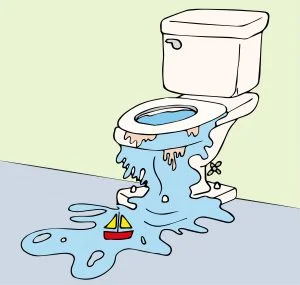 Some of the most common signs that you have a blocked drain will be:
Your toilet not flushing properly and high water levels in the toilet bowl
Bad, unpleasant odours coming from your drains
Pooling water around the sink, shower, dishwasher etc
Gargling sounds coming up from the drains, which is the sound of trapped air escaping with the flow of water
You can try and unblock drains at home yourself in a couple of ways
Down the drain chemicals followed by boiling water to help flush the blockage out
The home remedy of 1 cup of baking soda followed by 1 cup of vinegar, waiting 10 minutes before flushing it through with hot water
Using a plunger to dislodge the blockage
Metro Rod Aberdeen have two main solutions that we use to unblock drains, high-pressure water jetting and electro-mechanical cleaning. After assessing the site we will choose the best option for you to ensure the blockage is fully removed.
High-pressure water jetting is the preferred method we use to unblock drains as it provides a long lasting solution. By spraying pressurised water directly at what is causing the blocked drain we are able to break up the material and then flush it through. 
Electro-mechanical cleaning is the process of using a motorised tool with a rotating cable or spring inside, which the engineer feeds into the drain. The tool which rotates breaks up the mass blocking the drain so that it can be pushed through the pipe and drain. 
You may benefit from one of these services if you find yourself frequently with a blocked drain that wont go away even after using the home remedies of baking soda and vinegar or drain unblockers. When people manage to unblock drains themselves we find that it usually only removes part of the blockage which makes it more likely to become blocked again as there is still material in the drains attracting more debris. So, for a long-term solution its good to have one of our engineers check it out for you – it will be beneficial in the long run.
Metro Rod Aberdeen offer services from dealing with blocked drains, drain repair, CCTV surveys and septic tank maintenance. We believe in simple things and make sure we follow them through; available 24/7, professional, value for money service during and after the job and peace of mind in the fact that all our engineers are highly trained, DBS checked and fully insured.
Make sure you get in touch with us through any of the following:
Enquire through our website: https://www.metrorod.co.uk/local/aberdeen/ 
Get in touch with us via email: [email protected] 
Call us on 01358 723731
We any drainage needs, we are the drainage experts. We look forward to hearing from you soon!