We are fully committed to servicing all customers in the current circumstances. Our engineers are working hard 24/7 to support all domestic and commercial customers.
METRO ROD BEDFORD CAN CARRY OUT A CCTV DRAINAGE SURVEY FOR YOU BEFORE YOU BUY A NEW PROPERTY.
If you are buying a property this Summer, Metro Rod Bedford offers a cost effective solution to discovering what lies beneath!  A simple CCTV drain survey can be undertaken at the property to discover if tree roots are causing or are likely to cause damage to the drainage system. By feeding a tiny camera down through your drainage system, on a flexible rod attached to a screen, our engineers can see exactly what's occurring beneath and around you potential new house, before you leap in and exchange contracts. If we do find a problem we can then sort it out for you before you move in! Metro Rod Bedford have carried out thousands of CCTV surveys in and around the Bedford, Luton, Dunstable, Watford and Milton Keynes areas in recent years, so you can rest assured we know what we're doing.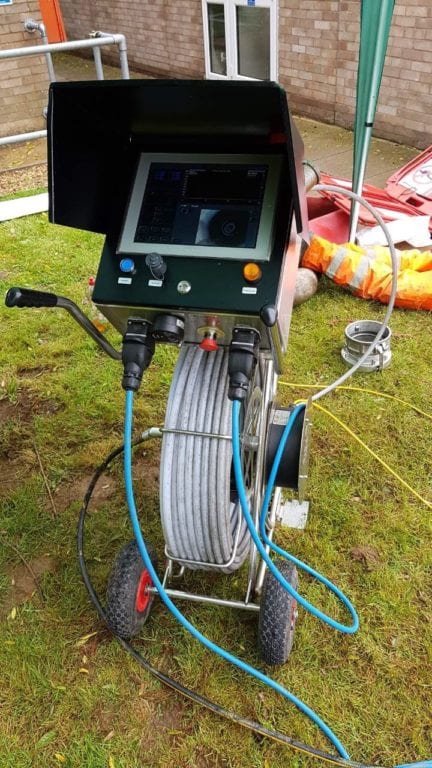 And if you're currently searching for a new home, you'll find that there's plenty on offer in our area if you search here on Right Move.

Root intrusions, breaks in your pipes and offset joints are just some of the potential hazards that can seriously affect your drainage.
As buying a home is likely to be the single biggest financial decision in your life, the last thing you need is a myriad of underlying drainage issues that come to haunt you through bad planning. For example, drain damage in homes is often caused by old age and tree roots outside the home, which creates blockages and causes water to leak into the surrounding soil. If this issue is not rectified, it can lead to further problems involving drain collapse and subsidence.
If you think you may need a survey of the drainage system of your new property, you can call us for a friendly chat and for some advise.
You can contact Metro Rod Bedford on 01582 66543 for further details and availability.
You can also email us here on [email protected] and someone will get back to you to discuss your needs.
Metro Rod Bedford are here for all your emergency drainage/plumbing issues 24/7 – 365 days a year.  We cover all the green postcode areas highlighted below, so contact us if you require a CCTV survey, think you have a blocked drain or even if your gutters need a good vac!  So, how can we help you?  There are several ways in which Metro Rod can help you with your drain surveys and CCTV sewer inspection. Just CLICK HERE!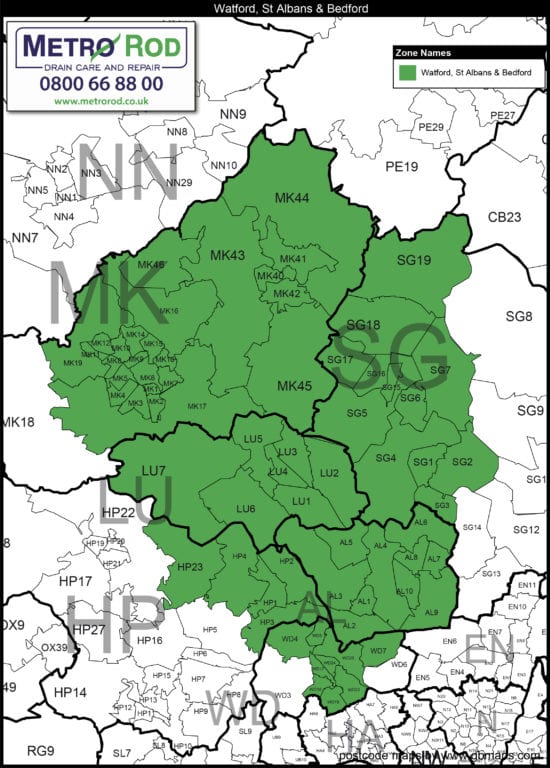 So, if you are looking for a new house, or have already found your dream home but would still like some advice, we look forward to hearing from you soon.